Upcoming Content

Content presented on this page has not been released yet. Details are subject to change before release, and anything unsupported by a source may be speculation or incorrect.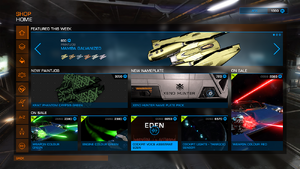 ARX is a virtual currency for Elite Dangerous that will be implemented in the September Update across all platforms. It will be used to acquire Livery and Commander Customisation items in the Frontier Store, and can be purchased outside the game or earned in-game.[1]
Up to 400 ARX can be earned each week,[2] and will only require engaging with the game normally without needing to complete any specific or purpose-built activities. Earned ARX is instantly added to a player's balance and can be spent immediately or saved indefinitely.[1]
Item Prices
Edit
Individual cosmetic items are available to purchase with ARX at the following prices. Some items, such as Ship Kits and Commander Customization items, are only available in bundles that include multiple related items.[3]
Earning ARX
Edit
Players can earn ARX through normal gameplay activities, such as exploring a new system, hauling cargo, or destroying other ships. Each activity rewards a small quantity of ARX, and a breakdown of recent earnings can be seen on the main menu. Logging-in to the game but remaining inactive will not earn any ARX, since none is rewarded based on time spent in-game. A maximum of 400 ARX can be earned per week.[3]
Purchasing ARX
Edit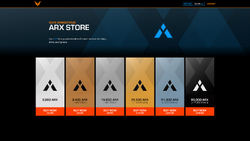 ARX will be available for purchase on PC in the denominations listed below. Prices on Xbox One and PS4 may vary based on platform specifications.[4] Note that the bonus ARX included with larger ARX denominations is added to the base amount of ARX; for example, purchasing the "51,000 (+3,000 bonus)" ARX pack will add a total of 54,000 ARX to the player's balance.[3]
| ARX | GBP (£) | EUR (€) | USD ($) |
| --- | --- | --- | --- |
| 5,000 | 2.99 | 3.49 | 3.99 |
| 8,400 (+420 bonus) | 4.99 | 5.99 | 6.99 |
| 16,800 (+900 bonus) | 9.99 | 10.99 | 12.99 |
| 25,500 (+1,300 bonus) | 14.99 | 15.99 | 18.99 |
| 51,000 (+3,000 bonus) | 29.99 | 32.99 | 39.99 |
| 85,000 (+15,000 bonus) | 49.99 | 54.99 | 59.99 |
ARX can only be used to buy cosmetic Game Extras and will not be used to introduce and acquire pay-to-win purchases.[1]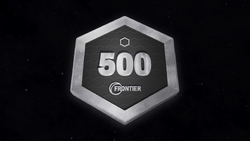 ARX is based on Frontier Points, a virtual currency that Elite Dangerous players on the Xbox One and PlayStation 4 platforms had to purchase in order to acquire items from the Frontier Store. Frontier Points could be purchased in denominations of 300, 500, 1000, and 2500. PC players did not use Frontier Points, and were able to purchase items from the Frontier Store directly.

When the September Update is implemented, unspent Frontier Points will be automatically exchanged for ARX at a conversion rate of 1:20.[4]
References
Edit
External links
Edit
Community content is available under
CC-BY-SA
unless otherwise noted.