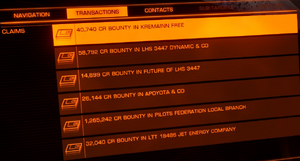 Not to be confused with Combat Bond Voucher.
Bounty Vouchers are monetary rewards earned through combat against wanted ships. They can be redeemed at any station's local security office. They can also be redeemed at an Interstellar Factors contact at a minor penalty.
The amount of rewarded credits for each ship varies greatly and seems to depend mostly on ship class and combat rank. In general it goes that the heavier a ship, the higher the reward.
Your collected Bounty Vouchers can be viewed under the Transactions tab of the left display. Note that any collected vouchers are lost if your ship is destroyed, so be careful when hunting.
Values
Ship
Reward (CR)
Sidewinder MkI
1,000 – 8,000
Eagle MkII
Imperial Eagle
Imperial Courier
1,000 – 9,000
Cobra MkIII / MkIV
5,000 – 35,000
Viper MkIII / MkIV
10,000 – 30,000
Asp Explorer
14,000
Adder
Hauler
1,500 – 10,000
Type-6 Transporter
Type-7 Transporter
3,000 – 20,000
Imperial Clipper
Federal Dropship / Gunship / Assault Ship
Python
Alliance Chieftain / Challenger / Crusader
20,000 – 130,000
Anaconda
Fer-de-Lance
Federal Corvette
Type-10 Defender
50,000 – 300,000
Notes
Resource extraction sites seem to yield the highest bounties by far.
Make sure to use a Kill Warrant Scanner to maximize potential bounty gains, if possible. The bounty value of an Anaconda or a Fer-de-Lance can sometimes surpass 400,000 total, or even more rarely, up to 500,000. In even rarer cases, it is even possible for the total bounties on a high-end ship to exceed 600,000 or even 700,000.
Community content is available under
CC-BY-SA
unless otherwise noted.