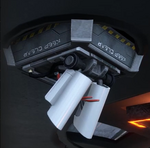 Signature tracking defence. When deployed, causes gimbal and turret mounted devices to lose lock. Requires Ammunition.

— In-Game Description
Chaff Launchers allow the player to disrupt enemy weapon locks. Very useful in combat against ships with gimballed or turret weaponry because their weapons will be unable to track your ship as it manoeuvres due to the chaff disruption. This module can be bound to a specific key so that it can be used quickly and does not need to be in a firegroup.
Munitions
Spent ammunition must be replenished once used. Any station that is equipped with a "Re-arm" service will be able to replenish ammunition. One can also replenish ammunition from the Munitions menu in the Starport Services, or via Synthesis. Chaff costs 30 CR per unit.
Specifications
Class
Rating
Mass
(T)
Integrity
Power
Draw
Armour
Pen
Thermal
Load
Ammo
Clip Size
Ammo
Maximum
Value
(CR)
0
I
1.30
B
0.200
F
2
1
10
8,500

Engineer Modifications
The following modifications can be applied to this module by Engineers to enhance its abilities:
Community content is available under
CC-BY-SA
unless otherwise noted.