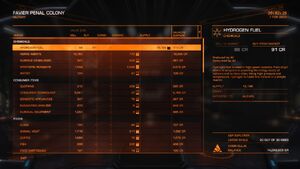 The galaxy's human populated space bustles with interstellar commerce. Many stations have or need certain Commodities, and have fluctuating buy and sell rates which allow commanders to make money on the market. Most commodities are transported in standardized Cargo Canisters, which must be transported in Cargo Racks installed in ships.
Commodities can be bought and sold at any Station that has a "Commodities Market", accessible through the Starport Services menu. To buy and sell illegal or stolen commodities the player must find a station that has a Black Market. The availability of certain commodities can vary greatly from station to station. Generally, stations will produce and consume certain commodities based upon their Market Economy type. Prices of commodities are dynamic and will fluctuate based on a variety of factors, including as a direct result of player interaction. Trade routes and strategies can change on a day to day basis, especially in areas with a high amount of player activity. The Background Simulation is directly impacted by trading.
Ambitious traders can make large amounts of credits by transporting commodities which they have bought at a low price and selling at a higher price. There are many Third Party Tools that can aid in finding trade routes throughout populated space.
Lists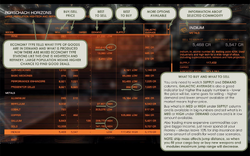 Supply and Demand - Table of which station economies buy and sell which Commodities.
Category:Commodities - An automatically populating list of documented Commodities.
List of Rare Commodities - There are various unique Rare Commodities that can only be purchased from specific stations. Rare Commodities increase in value the further away they are transported from the system of origin (up to 200 ly, after which the value ceases rising). See also: Category:Rare Commodities.
Commodities by type
Chemicals
Chemicals are a class of natural and synthetic compounds that have a variety of industrial, agricultural, and scientific applications.
Consumer Items
Consumer Items are those materials and items specifically created for human comfort and basic survival.
Foods
Foods are organic products harvested from flora and fauna for human consumption.
Industrial Materials
Industrial Materials are refined products used in the manufacture of machinery, ships, and structures.
Legal Drugs
Legal Drugs are substances that alter the mind and body, and can be legally traded at most markets.
Machinery
Machinery supports a wide variety of important functions, from producing clean water to providing power to regulating heat output.
Medicines
Medicines are substances and compounds used to treat illnesses in humans and enhance overall health.
Metals
Metals are malleable and ductile substances that are vitally important to the manufacture of everything from electronics to ship hulls.
Minerals
Minerals are chemical compounds that are mined from naturally-occurring deposits and can be refined into other substances. Some minerals are prized as precious gemstones and can fetch a high price at most markets.
Salvage
Salvage items are generally obtained through piracy or retrieval from sites containing preexisting wreckage, abandoned structures, or alien structures. Salvage is usually marked stolen or illegal in most systems. Certain Salvage items, such as Escape Pods and Black Boxes, can be given to the Search & Rescue Contact available at most Stations.
Slavery
Slaves are beings forced into labor and servitude, usually against their will and with no compensation or legal protections. Conventional slavery is illegal in most systems other than Anarchies, but Imperial Slavery, a regulated form of indentured servitude, is legal in the Empire and heavily integrated into its culture.
Technology
Technology Commodities are tools, mechanisms, and materials with significant complexity and highly-specialised applications. They drive the colonisation of new systems, the enrichment of existing habitation centres, and the advancement of science.
Textiles
Textiles are materials made of interlacing fibres. They are primarily used in the manufacture of clothing and furnishings.
Waste
Waste is material generated through the consumption of other materials. While some Waste Commodities can be re-used in other applications, others are too volatile and hazardous and require proper disposal.
Weapons
Weapons are tools designed and utilised for combat and defensive purposes. Their trade is strictly regulated in most systems.
Videos
External links