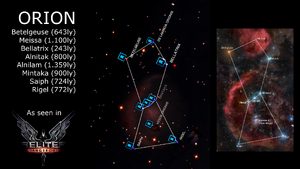 A constellation is a group of stars that are visibly related to each other in a particular configuration seen from a planet. A constellation forms patterns and imaginary outlines of animals, mythological people and gods, creatures, or manufactured devices.[1]
The night sky as seen from Earth has accurate constellations.[2] David Braben said "So for those who've played it we've actually put in most of the earth centric constellations in the sky, but when you travel a little away they all distort, but more important we are bang in the middle of this dust. So your night sky is quite dark, but if you go say a hundred light years directly out of the galactic plane it's a bit like poking up."[3]
You can select 'show constellations' on the Galaxy Map, zoom all the way in - and the constellations will be highlighted if you enable constellations in the map options.
You can identify every modern constellation in the sky while in the Sol system. All those stars can be visited as well.
Constellations
Edit
The sky as seen from Earth is divided into 88 modern constellations. These are primarily based on asterisms of Greek and Roman mythology. Constellations of the zodiac are along the ecliptic.[4]
| Name | Meaning | Brightest star |
| --- | --- | --- |
| Andromeda | Andromeda (The chained lady or the Princess) | Alpheratz |
| Antlia | air pump | Alpha Antliae |
| Apus | Bird-of-paradise/Exotic Bird/Extraordinary Bird | Alpha Apodis |
| Aquarius | water-bearer | Sadalsuud |
| Aquila | eagle | Altair |
| Ara | altar | Beta Arae |
| Aries | ram | Hamal |
| Auriga | charioteer | Capella |
| Boötes | herdsman | Arcturus |
| Caelum | chisel or graving tool | Alpha Caeli |
| Camelopardalis | giraffe | Beta Camelopardalis |
| Cancer | crab | Tarf |
| Canes Venatici | hunting dogs | Cor Caroli |
| Canis Major | greater dog | Sirius |
| Canis Minor | lesser dog | Procyon |
| Capricornus | sea goat | Deneb Algedi |
| Carina | keel | Canopus |
| Cassiopeia | Cassiopeia (mythological character) | Shedir |
| Centaurus | centaur | Alpha Centauri |
| Cepheus | Cepheus (mythological character) | Alderamin |
| Cetus | sea monster (later interpreted as a whale) | Deneb Kaitos |
| Chamaeleon | chameleon | Alpha Chamaeleontis |
| Circinus | compasses | Alpha Circini |
| Columba | dove | Phact |
| Coma Berenices | Berenice's hair | Beta Comae Berenices |
| Corona Australis | southern crown | Alphekka Meridiana |
| Corona Borealis | northern crown | Alphecca |
| Corvus | crow | Gienah |
| Crater | cup | Labrum |
| Crux | southern cross | Acrux |
| Cygnus | swan or Northern Cross | Deneb |
| Delphinus | dolphin | Rotanev |
| Dorado | dolphinfish | Alpha Doradus |
| Draco | dragon | Etamin |
| Equuleus | pony | Kitalpha |
| Eridanus | river Eridanus (mythology) | Achernar |
| Fornax | chemical furnace | Fornacis |
| Gemini | twins | Pollux |
| Grus | Crane | Alnair |
| Hercules | Hercules (mythological character) | Kornephoros |
| Horologium | pendulum clock | Alpha Horologii |
| Hydra | Hydra (mythological creature) | Alphard |
| Hydrus | lesser water snake | Beta Hydri |
| Indus | Indian (of unspecified type) | The Persian |
| Lacerta | lizard | Alpha Lacertae |
| Leo | lion | Regulus |
| Leo Minor | lesser lion | Praecipua |
| Lepus | hare | Arneb |
| Libra | balance | Zubeneshamali |
| Lupus | wolf | Men |
| Lynx | lynx | Elvashak |
| Lyra | lyre / harp | Vega |
| Mensa | Table Mountain (South Africa) | Alpha Mensae |
| Microscopium | microscope | Gamma Microscopii |
| Monoceros | unicorn | Beta Monocerotis |
| Musca | fly | Alpha Muscae |
| Norma | carpenter's level | Gamma2 Normae |
| Octans | octant (instrument) | ν Octantis |
| Ophiuchus | serpent-bearer | Rasalhague |
| Orion | Orion (mythological character) | Rigel |
| Pavo | peacock | Peacock |
| Pegasus | Pegasus (mythological winged horse) | Enif |
| Perseus | Perseus (mythological character) | Mirfak |
| Phoenix | phoenix | Ankaa |
| Pictor | easel | Alpha Pictoris |
| Pisces | fishes | Alpherg |
| Piscis Austrinus | southern fish | Fomalhaut |
| Puppis | poop deck | Naos |
| Pyxis | mariner's compass | Alpha Pyxidis |
| Reticulum | eyepiece graticule | Alpha Reticuli |
| Sagitta | arrow | Gamma Sagittae |
| Sagittarius | archer | Kaus Australis |
| Scorpius | scorpion | Antares |
| Sculptor | sculptor | Alpha Sculptoris |
| Scutum | shield (of Sobieski) | Alpha Scuti |
| Serpens | snake | Unukalhai |
| Sextans | sextant | Alpha Sextantis |
| Taurus | bull | Aldebaran |
| Telescopium | telescope | Alpha Telescopii |
| Triangulum | triangle | Beta Trianguli |
| Triangulum Australe | southern triangle | Atria |
| Tucana | toucan | Alpha Tucanae |
| Ursa Major | great bear | Alioth |
| Ursa Minor | lesser bear | Polaris |
| Vela | sails | Regor |
| Virgo | virgin or maiden | Spica |
| Volans | flying fish | Beta Volantis |
| Vulpecula | fox | Anser |
References
Edit