Upcoming Content

Content presented on this page has not been released yet. Details are subject to change before release, and anything unsupported by a source may be speculation or incorrect.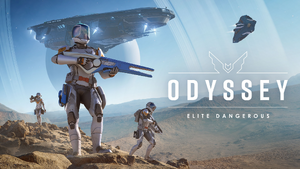 Elite Dangerous: Odyssey is the second paid expansion for Elite Dangerous. Frontier Developments has described it as the biggest update yet and a defining moment in the history of the game.[1] It has been in active development since August 2018, and was officially announced on June 3, 2020.[2]
Odyssey was originally scheduled to release in December 2020 on all platforms, but was delayed to early 2021 due to the COVID-19 pandemic.[3] It was then delayed a second time as COVID-19 restrictions in the United Kingdom were renewed, and is currently scheduled to release in late spring 2021 for PC and autumn for Xbox and PlayStation.[4]
Overview
Disembark, Commander, and leave your mark on the galaxy in Elite Dangerous: Odyssey. Explore distant worlds on foot and expand the frontier of known space. Be the first to step out onto countless unique planets as you discover land untouched since time began. Elite Dangerous: Odyssey invites you to become a true pioneer.[5]
One Giant Leap
See the galaxy like never before. Touch down on breathtaking planets powered by stunning new tech, soak in suns rising over unforgettable vistas, discover outposts and settlements, and explore with unrestricted freedom.[5]
Forge Your Own Path
Take on a wide variety of contracts and play your way, from diplomacy and commerce to lethal stealth and all-out combat. Diverse settings, objectives, and NPCs offer endless mission variety and a near infinite amount of content to enjoy.[5]
Assemble Your Crew
Social hubs spread throughout the galaxy give Commanders the ideal place to plan their next move. Form alliances, procure services, and even find expert support in highly coveted Engineers. These public outposts also help you acquire and upgrade weapons and gear to perfect your playing style.[5]
The Sphere of Combat
Experience intense first-person combat, kit out your character with an array of weapons and gear, and coordinate with teammates to master a multi-layered, deep, tactical environment where Commanders, SRVs and Starships converge.[5]
Q&A
Is Elite Dangerous: Odyssey coming to VR?
Currently, Elite Dangerous: Odyssey will not be VR-compatible at launch. We're big fans of VR and we are truly proud of the amazing experience that we currently offer in Elite Dangerous. However, the new gameplay, mechanics and features that will be introduced with Elite Dangerous: Odyssey means that we had to re-examine if we could deliver that same experience without compromise, which, for launch, means Odyssey will not be VR-compatible.[6]
In a follow up email we confirmed that VR support is still an open possibility sometime after launch, "with no defined date," according to the company.[7]
Will there be Base Building in Elite Dangerous: Odyssey?
Base building is not currently on the roadmap for Elite Dangerous, however we have plenty of new features planned instead such as on-foot exploration, new planetary tech, social hubs, combat as well as more to be shared later on! We're looking to put our best foot forward with Odyssey and if you'd like an overview of what to expect, you can check out the website or Steam page.[6]
Will Elite Dangerous: Odyssey be included in my Lifetime Expansion Pass?
While Elite Dangerous: Odyssey is a paid expansion, we're happy to confirm that yes, this expansion will absolutely be included in the Lifetime Expansion Pass for free.[6]
Features
Confirmed
These are all the confirmed features.[5]
atmospheric landings on planets with tenuous atmospheres.[8]
Millions of older planets have refreshed visuals with new levels of detail.[9]
Each sunset feels unique with a new algorithm that factors in the composition of the planetary atmosphere, the color, distance of the nearby stars etc.[9]
New living creatures are distributed across the galaxy based on complex, in-fiction rules and logic.[9]
Locate biologicals (flora and vegetation) from orbit, then land to sample their genomes. Return to a starport and exchange those discoveries for credits and buy upgrades. Player names are permanently attached to the things they discover.[9]
Social hubs are included at launch.[10]

Social spaces to meet and interact with other players.[9] Players can meet up and get missions from NPCs in person.[11]
There are 3 types of social spaces: Planetports, Spaceports, and Outposts. These are at pre-existing locations all around the Milky Way. There are only 3 unique layouts at launch.[11]

Small orbital stations will get Outpost social hubs. Large space stations (Coriolis starports and Orbis stations) will get Spaceports with 360-degree views of the station interior. Large surface installations will get Planetports.[11]
Quest givers and vendors are in roughly the same locations.[11]
The NPCs inside the social hubs will differ based on what factions are in control. This is based on the Background Simulation. The BGS changes the worlds and players can change the BGS.[11]

By taking missions of Minor Factions, players can help them gain control of built-up areas and drive out competitors in star systems and neighboring systems. The mission types change based on the economic state of the system, the faction objectives and player-directed influence of specific factions.[11]
Settlements, points of interest with a variety of activities. Transient elements spawn in and out to fill the surface. Settlements are quite big with industrial areas, military bases and small outposts.[12] Each settlement has multiple buildings. Such as extraction, agricultural and industrial settlements. Factions vie for control of the settlements. The interior spaces have breathable atmospheres. The BGS influences the difficulty and population of a settlement.[11]
Interactive human populations offer missions and emergent game play. For example you can trade or pirate (loot) a settlement.[12]
Take on contracts
Multiple play styles: diplomacy, commerce, stealth, first-person combat and more.
Explore with unrestricted freedom.
Diverse settings, objectives and NPCs
NPCs offer endless mission variety and a near infinite amount of content to enjoy
Form alliances
Procure services and support from Engineers.
Three new suits: the Remlok Maverick (scavenging), Supratech Artemis (exploration), and Manticore Dominator (combat). Each provides statistical bonuses. Collect new items and resources to upgrade and specialize suits; for example, the Manticore Dominator can be specialized for short or long-range combat. High level upgrades require Engineering. A battery powers shields and life support systems. It can be managed with a power distribution system.[11]
Gear: jet pack, cutting tool
Handheld weapons, including an assault rifle, rocket launcher, shotgun, pistol, and more.

Weapons are divided into one of three damage types, depending on the manufacturer. Kinematic Armaments specializes in kinetic weapons, Manticore specializes in plasma weapons, and Takada specializes in laser weapons. Kinetic projectiles are most effective against unshielded targets, lasers are most effective against shields, and plasma projectiles are very powerful but slower-moving than the other two types.

Coordinate with teammates.
No virtual reality support at launch.[13] Full VR in ships and vehicles in all parts of the game, except on foot it switches to the flat game screen, but no need to remove the headset if you don't want.[10]
Ship interiors are not included at launch.[10]
Leaks
According to a leaked roadmap, it will feature:[14]
Atmospheric landings were confirmed in the released trailer for the expansion, which shows two commanders landing on a atmospheric desert planet.[5]
In October 2019, Frontier left a reference on the ARX website's metadata tags about cosmetics for buildings, weapons and SRVs. It was removed when people found it.[15]
In the leak, Elite Dangerous' NewEra/Odyssey was code named "Watson". It matches the promo image filename "ed_watson_announce_gleam_1920-jpg" of the Odyssey/OverclockersUK competition post (June 2020).[16]
Stellar Forge
The Stellar Forge has been upgraded with terrains and terrain materials of various different types and scales which are deterministically selected and blended together depending on the Stellar Forge (SF) driven properties of that planet. ​Landable planets are classified between rocky, icy, rocky ice, high metal content and metal rich depending on what emerges from the SF, but their terrains are dependent on those simulation values more than these discrete titles. Terrain shapes, styles, and combinations are mixed together, meaning there is a lot of variation within these classes.[17][18]
Across a planet there is now a large scale mask processed which determines different zones of types of terrain based. The mask depends on things like how gravitationally stressed the planet is, the crust thickness and if the planet is, or has been, tectonically active. These zones mask out further subzones of terrain and material types, and follow the flow patterns laid out by the layer above it, creating a seamless landscape across the planet.[17][18]
Alpha
Elite Dangerous: Odyssey will be preceded by an alpha period on PC in early spring 2021. Players who own the Lifetime Expansion Pass or purchase the Odyssey Deluxe Alpha edition will have access to the alpha. Over the course of the alpha, Odyssey features will be introduced incrementally in order to focus community feedback.[4]
Editions
Elite Dangerous: Odyssey is currently available for pre-order in two editions on PC. Pre-order options for Xbox and PlayStation will be made available on a future date.[19]
Elite Dangerous: Odyssey (PC)

£29.99/$39.99/34.99EUR
Includes the Odyssey expansion and the exclusive "Pioneer" suit skin
Elite Dangerous: Odyssey - Deluxe Alpha Expansion (PC)

£39.99/$54.99/46.99EUR
Includes the Odyssey expansion, the exclusive "Pioneer" suit skin, the Official Digital Soundtrack, and access to the Odyssey pre-release alpha version
Development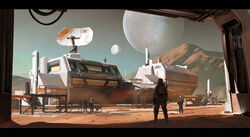 On 15 November 2019 Frontier described the new era of Elite in a Trading Statement and Roadmap Update:
"The future for Elite Dangerous is also exciting. Frontier is developing a major new paid-for release for the iconic space simulation which will dramatically expand gameplay and mark the beginning of a new era for Elite Dangerous. This will be characterised by significant new features to appeal to existing commanders, whilst being specifically designed to be a compelling, attractive and welcoming entry point for new players. Targeted for launch at the end of 2020, this major new release on multiple platforms will fall into financial year 2021."[20]
Frontier said on 1 March 2019:"Back in August (2018), we mentioned that the team had begun work on the next major era of Elite. We believe this will be a defining moment in the history of the game and it will be our biggest update yet."[1]
"In that post, we explained that the content was still very early in development, so we won't be ready to announce it for a while. To give this more context, in order to realise the ambition for this update, and the size and scope of the content we wish to bring to the Elite Dangerous galaxy, we estimate this major milestone will be ready by the latter half of 2020."[1]
"As development progresses, we will share more news and announcements on features, as well as timelines regarding this upcoming content for Elite. We can understand that having a long wait for news can be frustrating, but we truly believe that this will be the single most impactful update for our community. Having a development team dedicated to this milestone is our continued and unwavering commitment to making Elite Dangerous the most authentic, ambitious, and expansive evolving space game in the world."[1]
On October 22, 2019, Community Manager Will Flanagan said:"The team have been hard at work on the next major milestone, which you may remember we mentioned back in March as our next major paid addition to the game. They're making fantastic progress and on schedule for release by the end of next year. We are very excited to show you what we've been working on. However, we can only announce the content when it's at the right stage of development, we estimate this will be ready to talk about at some time in summer 2020, after the Fleet Carriers update. We appreciate there is a bit of a wait, but we want to make sure it is ready to be shown before making our full official announcement to the world."[21]
On June 3, 2020, less than a week before the release of the Fleet Carriers Update, a trailer for the expansion containing in-engine pre-alpha footage and revealing its name as Elite Dangerous: Odyssey was accidentally uploaded to the official Elite Dangerous YouTube channel. Although the trailer was swiftly removed, copies of it were captured and uploaded by fans, and Frontier Developments eventually decided to advance their announcement plans and reveal Odyssey the same day.[2]
Videos
Gallery
References
2019 - 2020 Standalone Updates

Coming Q1 2021

Patch Notes

Elite Dangerous
Horizons
Beyond
2019 - 2020

For additional information about the development of Elite Dangerous and planned content, see Development Plans.
Community content is available under
CC-BY-SA
unless otherwise noted.