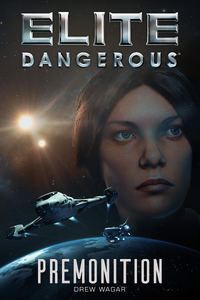 Elite Dangerous: Premonition is an official licensed novel written by Drew Wagar. It was published by Frontier Developments on June 27, 2017. Drew also wrote one of the original official novels, Elite: Reclamation.
Description
Unlike previous licensed official fiction, Frontier Developments took the decision to promote and publish this novel directly. They worked in close collaboration with Drew and gave Drew a "'behind the scenes' look at what's really going on in the galaxy, its background and what's coming."
As such it featured the current core story of the game (3302-3303) and was, in part, shaped by player actions as they responded to events in the Elite Dangerous universe during that time.
Drew has indicated that the novel was designed to be "an expansive space operatic adventure with a mix of space battles, conflict, drama, tension and political shenanigans."
Frontier Developments went on to describe it as "an exciting undertaking, which adds a complementary new dimension to our storytelling. We couldn't do it without Drew and his relationship with Frontier, the technology behind the Elite Dangerous galaxy and most of all you - this incredible community of Commanders."
Storyline
The legacy of a centuries-old mystery. Disturbing encounters with unknown ships. Three great superpowers manoeuvre against each other. But are their destinies their own, or are they merely the puppets of some greater power? Since the loss of the Prism system in 3300, Lady Kahina Tijani Loren has operated on the fringes of Imperial society. Led by clues from a woman once thought dead, she is drawn into a conspiracy at the heart of humanity. To uncover the truth she must contend with dangerous enemies, navigate murky political waters, and - with the help of her friends - uncover the secret of the Formidine Rift. Premonition is the new story set in the Elite: Dangerous galaxy, shaped by player actions in the game.[1]
Availability
The eBook is available on the Frontier Store with the paperback being provided by Amazon.
Videos
References