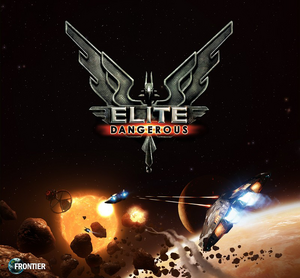 This is an overview of significant reception by the press and awards for Elite Dangerous.
Reception
PC
The Windows PC version launched on December 16, 2014.
The Koalition gave it 95%
"Shining Bright Like a Supernova. What Frontier Developments has created, at least so far, is a game with plenty of depth, a lot of potential, and even more direction. Elite Dangerous will not guide you through a video game version of a theme ride with exposition and set pieces. Instead, it drops you into a galaxy and tells you make your dreams a reality."[1]
Entertainment Buddha gave it 92%
"Despite what the game is lacking, I have had hours of fun in Elite: Dangerous, and recommend it to anyone that is interested in this niche genre. The game is a huge technological achievement, and an ambitious project that would have undoubtedly scared away the big name publishers. Now that the game is finally released, we can see that Frontier Developments has, to an extent, achieved its goal of creating everyone's dream space sim, but there's still a way to go. Elite: Dangerous is a fantastic space sandbox game, and an incredibly cool experience"[2]
Hooked Gamers gave it 9.0/10
"With so much on the table to start, and so many ideas that they want to put into motion, this title has launched itself out into the galaxy and it's bringing a frenzy of eager pilots along with it. It may not be perfect, but for something so ambitious it's off to a pretty grand start."[3]
GamesVillage.it (Italian) gave it 9.0/10
"The new Elite picks up where the original left and improves its gameplay in every possible way. A great space sim that manages to be deep and complex without becoming too intricate, with room for future improvements. Could be the right reason to plug an Oculus Rift in your PC."[4]
DarkStation gave it 4.5/5
"Elite: Dangerous requires an investment of time, patience and regular visits to the game's fan community. The tutorial covers the extreme basis of starship operation, combat, and docking procedures but everything else in between is up to the player to figure out. Get past these hurdles and you'll find a space simulation experience like no other, filled with gorgeous galactic vistas and the opportunity for fortune and glory."[5]
Ragequit.gr (Greek) gave it 90/100
"Everyone who played the original game back in the 80's, should be right at home. It's the 21st Century version of "Elite." But newer, uninitiated players may find it strangely desolate and repetitive. A grand space simulation, aimed at the series' hardcore fans."[6]
HobbyConsolas (Spanish) gave it 87/100
"A huge real-time changing universe through which to travel with freedom and become a legend dictating our own way. Frontier has perfectly matched the controls to Xbox One and offers PvP modes loaded with speed and action." "Capable of delivering some of the best stories about spaceships you've ever taken part in."[7]
PC Gamer's Chris Thursten gave it 86/100
"a great game and, with time, potentially a classic. Much rests on Frontier's ability to build on these broad but somewhat shallow foundations."[8]
Multiplayer.it (Italian) gave it 8.5/10
"Elite: Dangerous is one of these titles that make you want to travel to the confines of the universe just to see if there is anything to discover. One of those games that everyone does not want to face but that's why they become even more special."[9]
Jeuxvideo.com (French) gave it 17/20
"Impressive, exhilarating, sometimes off-putting, fairly redundant, time-consuming, but so good!"[10]
VentureBeat gave it 83/100
"Elite: Dangerous is unforgiving, obfuscating, and occasionally dull, but it's always immersive and beautiful. It offers an incredible universe to explore that, despite occasional graphical repetition, offers the tantalising possibility of wonders yet unseen at the end of each new hyperspace jump."[11]
Vandal (Spanish) gave it 8.1/10
"Elite: Dangerous recovers the essence of computer simulators once, staying true to the veteran saga on which it is based, and in turn getting enough of the day to be attractive to players of 2015. Surely wait a while will allow you to enjoy Of a more round product, but if you want to go for them and you like the genre, we believe that you will satisfy more, especially after the first few hours of play, which are the hardest."[12]
Edge Magazine gave it an 8/10
" Satisfying handling that sets a new standard for any cockpit-based genre."
"Vast, Beautiful and Intimidating. The classic space-trading simulation returns with a vast multiplayer universe and a complex interplay of trading, exploring and, of course, fighting."[13]
"For all its frustrations, you'll spend much longer in the sweet spot than you spend getting there. Elite: Dangerous demands much, but repays your devotion many times over."[14]
XGN.es (Spanish) gave it 8/10
"The best of all is that there are no limits to what you can be: you can be a bounty hunter until you get caught or get tired, then be a space hero in the service of the Federation, you can be a luxury goods trader or A miner who just sets out to look for rare minerals in asteroid fields."[15]
Xbox One
The Xbox One version launched on October 6, 2015.[16]
"This is one of the best space sim games I have ever played. It can be a scary game, but if you let yourself get into it and really dig in deep, you will begin to see just how brilliant this game can be, just like I did." [17]
XboxManiac (Spanish) gave it 5/5
"As an experience, Elite Dangerous is one that we do not usually see on consoles. For how complex everything can seem from the first moment. But it is one of those games with which time stops and we come back for more, not knowing what we will find during those hours that can last each session. It is not the perfect game, nor as a simulator, but it has behind it a team that does not stop to improve the offer. Either with updates that improve some aspect or content of payment that some can not reject. Because, who would not want to have a bigger one? More than an Imperial destroyer, it is understood."[18]
SomosXbox (Spanish) gave it 8.9/10
"Elite Dangerous: Horizons is a palpable expansion of an experience whose limits could not be grasped. Now, with the option to land on planets and satellites, the game options are increased, adding many missions that will be more diverse. An unusual experience, which continues to expand thanks to the constant updating of the proposal, which has a really promising future, but which at the moment is outstanding and overwhelming."[19]
IGN Italia (Italian) gave it 8.8/10
"Vast and hard, Elite Dangerous is a demanding experience which rewards the player with great satisfaction. The Xbox One edition is really well done and the joypad controls feel great."[20]
Gaming Trend gave it 8.5/10
"Frontier Developments have done a magnificent job of creating an affordable universe that is fun to play. With tons of game styles and the entirety of the Milky Way to explore, this one is truly for space sim buffs with one caveat – if you're feeling lost, we recommend you check out video tutorials online."[21]
XboxAddict.com gave it 82%
"Many games have tried to be a variant of the MMO experience, but Elite Dangerous has damn near mastered the core of what it takes to make an experience last a lifetime. With more modules already released and more on the way, I can't wait to see what Frontier Developments adds to this sensational game."[22]
Official Xbox Magazine UK gave it 8/10.
DarkStation gave it 8/10
"Elite: Dangerous goes against the grain of the Xbox One's library of games. It's not as frenetic and action packed as Call of Duty nor does it share The Witcher 3's flair for engrossing narratives. Instead, Elite: Dangerous is a quest for the next big thing which, in this case, is a high quality ship outfitted with the best equipment that fits a chosen playstyle."[23]
Brash Games gave it 8/10.
"Apart from the slow pacing, this is probably the finest space sim we've ever played. With a playground as large as your imagination and the freedom to do whatever you want, Elite Dangerous is a unique gaming experience that we highly recommend."[24]
PlayStation 4
The PlayStation 4 version launched on June 27, 2017[25] It's generally more positively received and with diverse opinions.
"The future of Elite Dangerous is exciting. This is a complete game; you can buy it right now and have a full experience without feeling like anything is missing. This was not entirely true until the Horizons expansion, which added several game play elements including planetary landing which is absolutely critical to completing the Elite experience. I can't stress enough the importance of opting in for the expansions as they become available, but the meat is there, even if what they are promising seems hopelessly lofty (Walking around on populated planets with inhabited cities and hunting wild game? I'll believe it when I see it. Elite Dangerous is an investment if you buy into it and enjoy what it offers, which is an experience that is really like no other. A hallmark of excellence. There may be flaws, but they are negligible and won't cause massive damage."[26]
PlayStation LifeStyle gave the PlayStation 4 version a 9/10.
"Elite Dangerous is a massive, living game with plenty to see and do. Like a lot of sandbox, open-world games, you get out what you put in to the game. The various systems at play, including flight mechanics, are just complicated enough to be believable, while not hindering gameplay. It also helps that the game looks gorgeous, and runs solidly. While the online-required aspect may become an issue if the servers shut down years from now, in the meantime, Elite Dangerous could very well be a game that you play all through the summer, and then some. It's a game that all sci-fi fans must play."[27]
Chalgyr's Game Room gave it 9.25/10
"Though Elite: Dangerous on the PlayStation 4 is a straight port, it is an incredibly excellent release. With the added HOTAS support on a console you now have a bonafide space simulator that can take full advantage of standardized hardware which allows Frontier Developments to put out the best product possible for the platform. With the continued dedication to the living, breathing universe, Frontier is consistently leading the charge on bringing the infinite vastness of space to your living room."[28]
All Things Playstation gave it 9/10
"If you're a gamer that appreciates extremely deep mechanics and doesn't mind messing up before getting good – Elite: Dangerous is for you. Stop walking and grab that game off the shelf. There's no hand holding in this game. So if you can persevere through the teething issues at the start, it'll feel great to let loose the training wheels and tear through the galaxy with a newfound confidence."[29]
Warrington Guardian gave it 9/10
"Elite will not be a game for everyone. Plenty of people will find the necessity of jumping to and from star systems tedious, while others, like myself, will love the free exploration of a vast galaxy."[30]
Mundogamers (Spanish) gave it 9/10
"In conclusion, Elite: Dangerous is the game that every science fiction lover needs in their Xbox One or their PS4. From Firefly to Galactica, Star Wars to Dune, Star Trek to Doctor Who and not to mention Red Dwarf, Futurama, Ringworld, 100, Captain Harlock and Cosmos by Carl Sagan. Elite Dangerous unites the Madness of Fourth Millennium with science, without obviating the great phrase of Fox Mulder, The Truth Is Out There, and allowing us to become Space Cowboys."[31]
Peter Dominguez (Spanish) gave it 4.5/5
"Elite has a bright future ahead, and is without a doubt the best and most complete space simulation game on the market, despite its flaws and still in development. When it comes to fantasizing about the possibilities, it is very easy not to put your feet on the ground, and expect Frontier and Braben to perform a miracle of spatial simulation, but the reality is that a game like this takes time and requires players Have patience while taking shape. As it stands today, despite all, I would call Elite: Dangerous a success, and a game that has driven the race of space simulators with mixed results like No Man's Sky, but certainly has been responsible for revitalizing it and bringing it to The modern era."[32]
GameCensor (Dutch) gave it 90/100
"Elite: Dangerous is a space simulation of unprecedented proportions. Realism creates immersion and endless possibilities create curiosity and urge for new experiences. The visual representation of the spaceships is beautiful and realistic. The only downside is the steep learning curve and limited information available from tutorials."[33]
SciFi Pulse gave it 9.6/10
"Over all. Elite Dangerous lives up to its name. It is dangerously addictive and offers up endless opportunities to the gamer that is prepared to invest the time and effort in building their reputation. The team at Frontier should be very proud of what they've achieved here."[34]
Impulse Gamer gave it 4.4/5
"It isn't going to be everyone's cup of tea, especially if you're looking for instant action or a linear playing experience. That said, with a little patience, and a bit of imagination, Elite Dangerous is an extremely rewarding game that is worth experiencing."[35]
Everyeye.it (Italian) gave it 8.6
"Elite: Dangerous is part of a genre that has never been on consoles, if not in rare and simplified situations, and for this same reason it becomes a natural must buy for all those who, even without owning a personal computer, They have always experienced the charm of the complexity of a simulator in all respects." "Elite: Dangerous is a step away from being a masterpiece, and it could be quietly within another year."[36]
PlayStation Universe gave it 8.5/10
"Minor shortcomings aside, Elite Dangerous delivers with aplomb on its promise of a massive galaxy for players to explore and write their own stories within. There are very few games on PS4 that will devour your social life as completely as Elite Dangerous."[37]
GQ Magazine didn't give a rating, but said it makes No Man's Sky look unfinished by comparison.
"That's its beauty – having played the game since 2014, we've seen it transform and mutate from beta phases through to its full release. Now, complete with the Horizons update that allows you to seamlessly transition from space flight to planetary surfaces, and with everything else that's coming in over the next 12 months, Elite promises to keep you entertained. Jump in, play for a bit and jump back out, if that's the kind of play style that suits you – there's always going to be something else waiting for you in space whenever you log back in."[38]
PSX-Sense (Dutch) gave it 8.5/10
"Elite Dangerous gives you back what you put in, nothing more and nothing less. The genre is badly represented on consoles and therefore extra interesting for sci-fi lovers. It's a tricky, uncompromising title that leaves you completely up to your destiny. There are some minor obstacles, but as a sci-fi lover you will love them. Are you someone who can get totally lost inthis kind of game? Then Elite Dangerous is an indispensable release and you will probably be playing the game."[39]
"there's a magic to Elite Dangerous that will keep you playing. Whether it's a close encounter with a white dwarf, an intense dogfight, or just a cruise between star systems, the freedom and opportunity laid across its billions of stars means that Elite Dangerous offers spectacular space-tourism all from the comfort of your sofa."[40]
GameRevolution gave it 4/5
"Elite: Dangerous has come a long way since its debut in 2014. It's now a much more complete product, making it an attractive option for PS4 gamers who have the urge to leave Earth and see what the Milky Way galaxy has to offer."[41]
"The pioneering space adventure makes an impressive landing on PlayStation 4, with more content than ever and the promise of even better things to come."[42]
Gaming Boulevard gave it 8/10
"If you're ready to learn and head into this space universe with baby steps, go ahead you'll grow into a great space pilot!"[43]
Rectify Gaming gave it 8/10
"Elite Dangerous is an awesome space simulator game that you can dump tons of hours into, and with it being the only space sim on console I say it's worth a buy. There are plenty of missions to embark on and you can play with friends and start exploring the galaxy together."[44]
Awards
Sales
The game had sold around 1.7 million units by the end of May 2016.[53] By the end of December 2016 a total of over 2.1 million paid franchise units of Elite: Dangerous had been sold.[54] As of August 2017 over 2.75 million copies were sold.[55][56] As of 15 January 2019, cumulative sales of Elite Dangerous exceeded 4.3 million franchise units. That's 3 million base game units.[57]
References
Community content is available under
CC-BY-SA
unless otherwise noted.