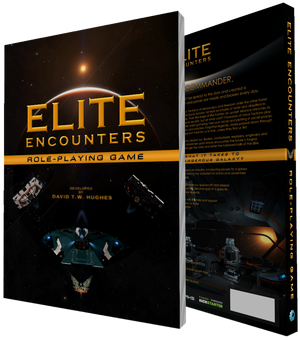 Elite Encounters is the first official roleplaying game set in Elite Dangerous and the Elite universe. It aims to take the experience to another level - away from the computer, onto the tabletop and into the imagination. It's endorsed by Frontier Developments. It was created by Dave Hughes.[1]
It was successfully Kickstarted on March 3, 2013.[2] An early "Alpha" version of the rules were released to a closed group in December 2013[3] and a Beta version was due for release in August 2014.[4] It was released on 18th October 2017.[5]
Description
Elite Encounters became the first tabletop roleplaying game to be commissioned, allowing gamers everywhere the chance to step through the computer screen and into the dangerous world of the Elite![6]
Elite Encounters features a custom designed game system that showcases the players and their characters. It provides a simple and quick dice rolling system that will be attractive to beginner players but with enough detail to engage the hardiest of role-playing veterans.[6]
For the first time ever, Elite Encounters presents the living history of the Elite Dangerous setting, including the distant origins of the venerable Federation and Empire as well as the new Alliance. The book provides enough information to allow players to set their campaigns in any timeframe, including the Imperial exodus, the rise and fall of the Galactic Cooperative or the coming of the Thargoid menace![6]
Features
Elite Encounters includes:[6]
300+ pages of background, lore and game content: all you need for adventures in the setting of Elite: Dangerous.
An easy to learn, detailed game system using common 6-sided dice.
Hints and tips for players and Loremasters alike, including sample adventures, galaxy maps and much more.
Over a hundred pages of full-colour content, including double-page posters of the spacecraft featured in Elite: Dangerous.
Fully featured Vehicle Combat System that allows you to simulate space combat on your table top.
And much more!
Availability
It's available for puchase on the Daftworks website.
References