| | |
| --- | --- |
| | Parts of this article have been identified as out of date. Please update this article to reflect the current version of the game, and remove this template when finished. |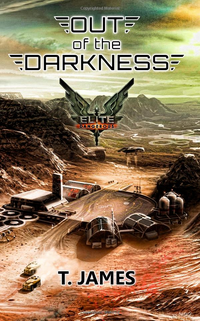 There's numerous fiction such as novels and RPGs set in Elite Dangerous and the classic Elite games. It's part of the Elite universe.[1]
Timeline
There are two published timelines in the Elite universe. The Elite Timeline pertains the classic Elite games (Elite, Frontier: Elite II and Frontier: First Encounters). The Elite Dangerous timeline has some disparities as well as many similarities.
Novels published by Frontier Developments
Premonition is a novel written by Drew Wagar. It was announced by Frontier on the 12th of August 2016 and published on June 27th 2017. It has been described as a sequel to Elite: Reclamation, but also as a player-driven story influenced by in-game events and player actions.
Novels by Fantastic Books Publishing
Reclamation is a novel written by Drew Wagar. It is a space opera/thriller set on the borders of the Frontier where the Empire and Federation are fighting over a star system. It features the in-game character Senator Kahina Tijani Loren and concentrates on the Imperials.[2]
Mostly Harmless is a novel written by Kate Russell. A comedic tale of Commander Angel Rose, the Mostly Harmless pilot who becomes an unwitting and incompetent assassin.[3]
And Here The Wheel is a novel written by John Harper. It ties together the storylines of The Dark Wheel and the Thargoid missions of First Encounters to create an interstellar adventure that no Elite fan will ever forget.[4]    
Tales from the Frontier is an anthology of 15 novellas and short stories by writers from around the world. Each story takes place in different parts of the Elite universe.
Novels published by Gollancz
Written by Gideon Defoe, Elite : Docking is difficult is a comedy.
Written by Simon Spurrier, Elite: Nemorensis is a story of a pair of lovers making their way in the Elite Dangerous universe.
Written by Stephen Deas and Gavin Smith under the pseudonym 'Gavin Deas', Elite : Wanted is a story of pirates and bounty hunters.
Other Novels
A novel written by T James. It's one of the few novels to specifically feature the Thargoids.
Lave Revolution is a novel written by Allen Stroud, with stretch goals that include a short film.[5] It follows the transition of Lave from a Dictatorship to a Democracy before the start of Elite: Dangerous.
A novel written by Michael Brookes. "Facing a deadly conspiracy, the mining colony of Freeholm must battle against overwhelming odds to retain their independence..."
Roleplaying Game Books
The first official roleplaying game book set in Elite Dangerous and the Elite universe by Dave Hughes.
Official Elite Dangerous RPG is an interactive adventure to share with a group of friends. It seeks to immerse the role player in the same cut throat galaxy experienced by online players.
Projects
The following projects are under development.
Supermassive is a novel to be written and illustrated by André Czausov. The book is planned to be around 90k words in length, and a suite of original illustrations will be incorporated into the PDF edition, together with some crowdfund-only extras such as Void magazine. This book is not yet released, the last update was on 28 December 2016.[6]
Survivor is a gamebook to be written by Nathan Page. Armed with nothing more than a pencil, two dice and an eraser, do you have the skill and wits to thrive in a hostile galaxy?[7]
Classic Elite Fiction
These stories were written to tie-in with the previous games in the Elite series, and are generally non-canon in the universe of Elite Dangerous with the exception of certain characters, organisations, and events.
The Elite: Dark Wheel novella by Robert Holdstock came packaged with the original Elite game in 1984. It was the first novella to be included for distribution with a video game in history.[8]
Imprint
A novella included in the manual of Elite Plus in 1991, written by Andy Redman. It details the adventure of a new spacer, Rif Hood, who, after getting a new ship and pilot's license, encounters more than he imagined: pirates, friends, rivals, terrorists, and the terrifying realities of space combat.[9]
This book is a collection eight short stories which came free with the Frontier: Elite II game in 1993. Written by David Massey, Moira Sheehan and Kathy Dickinson, these stories are set in the Frontier and Elite universe.[10]
A collection of short stories of Frontier: First Encounters. There's the continuing hostilities between the Federation and Empire, muddied by the recently formed Alliance, and an intriguing story involving the Sirius Corporation and another which touches on the growing discomfort regarding the INRA actions towards the Thargoids.[11]
Guide for beginners
For beginners the following Elite fiction is good:
See Also
References
Community content is available under
CC-BY-SA
unless otherwise noted.