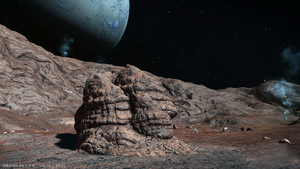 A fumarole is an opening in a planet's crust that allows gases and dissolved minerals from deep below the surface to eject into the surroundings or deposit around the sides of the openings.[1] Fumaroles can be found in various places on planets and moons.
The Codex has two categories: fumarole and ice fumarole. The ice fumaroles have a different shape. They are longer and thinner than regular fumaroles.
Locations
Edit
These are some discovered fumaroles.[2] Also check this related thread.
| System | Planet | Coordinates | Notes |
| --- | --- | --- | --- |
| Blaa Hypa ZZ-P d5-145 | B 1 | Lat: -2.27° / Long: -10.18° | |
| Boelts RL-E c28-2554 | D 1 | Lat: -9.29° / Long: 148.69° | |
| Chaea Thua XE-R D4-18 | 1 C | Lat: -51.17° / Long: -45.58° | |
| Col 173 Sector KY-Q D5-47 15 | F A | Lat: -61.00° / Long: -99.42° | |
| Col 173 Sector KY-Q D5-47 15 | F A | Lat: -61.00° / Long: -99.42° | |
| Wrupeou BL-J C11-85 | | | |
| Synuefe XR-H D11-102 | 1 B A | Lat: 7.6° / Long: 65.1° | |
| HIP 20485 | A 1 | Lat: -1.0060° / Long: -117.4010° | Source.[3] |
| Scheau Flyi KR-W e1-6736 | A 1 A | Lat: -29.35° / Long: 37.11° | Source.[4] |
| Smojue LH-D d12-3 | 9 B | Lat: 0.46° / Long: 144.04° | Source.[4] |
| HIP 17401 | A 3 A A | Lat: 25.6° / Long: 90.3° | Source.[4] |
| Pleione | 3 A | Lat: 11.6° / Long: -32.1° | Source.[4] |
| Eta Cassiopeiae | New Moon | Lat: -21.35° / Long: 72.60° | Source.[4] |
| IC 4604 Sector BA-A D57 | 1 A | Lat: 48.24° / Long: 85.72° | Source.[4] |
| Gbekree | Ab 3 B A | Lat:-22.79° / Long: -99.07° | |
| Electra | 1 | Lat:-23.9855° / Long: -26.8011° | |
| Taygeta | 10 A | | Brown dwarf and fumaroles |
References
Edit