GalNet is a galactic data network and information aggregator owned by the Pilots Federation. It has a near monopoly on market information, galactic news and communication systems for ships and stations.[1][2][3]
It provides the latest information on important galactic news and ranks Powers with the Galactic Power Standing.[2] The systems are fitted as standard on nearly all independent ships and even some militaries.[3]
GalNet can be viewed while docked at any station and through the Galactic Power Standing. GalNet news is also on the official website. The slogan is "Your Galaxy In Focus".
Background
The Pilots Federation derives the bulk of its wealth from the GalNet data network. Originally a system of ship, bounty and star-chart data, it evolved into an interstellar aggregator of market information and galactic news. By 3300, the Pilots Federation was not only the dominant provider of this information, it's also the main manufacturer of the hardware and software serving this data. Today, Pilots Federation systems are fitted as standard on virtually all independent starships and some militaries.[1] Thus the Pilots Federation's GalNet system has a near monopoly on all shipboard and station embedded systems. The trusted nature and politically neutral stance of the Pilots Federation means there's little resistance to it.[3] Over the centuries this allowed the Pilots Federation to grow into one of the dominant financial superpowers of the galaxy.[2]
Originally a star chart, ship data and bounty management system, GalNet has evolved into an effective galactic infrastructure providing news, market pricing and acts as a communication system for pilots.

— Website Description
GalNet Audio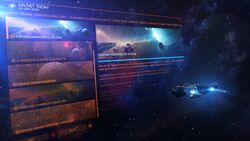 With a simple click of a button you can listen to GalNet news and stories whilst flying your ship.[4] This feature is powered by COVAS.
Select the play button at the bottom of the right-hand system panel in your cockpit to play through the headline news stories.[4]
If you're looking for a specific story, or you want to curate your own playlist of handpicked news, you can do so by opening up GalNet news from the same panel and select the stories individually.[4]
GalNet news will fade in and out depending on the situation, and stop altogether in some key situations. In some cases, such as counting down to hyperspace jumps, the news will pause and then resume once the countdown is complete. The story, or playlist, will continue from where you left off.[4]
It's part of the Elite Dangerous: Beyond Chapter One update.[4]
Latest GalNet News
Loading RSS data...
GalNet Articles Archive
| 3300 | 3301 | 3302 | 3303 | 3304 | 3305 |
| --- | --- | --- | --- | --- | --- |
| | | | | | |
Notes
Local GalNet reports are occasionally interrupted or hacked by third parties, resulting in Compromised Carrier Signals. These can be deciphered to receive secret messages.
On August 7, 2019, Community Manager Stephen Benedetti announced that Frontier Developments would be altering the format of GalNet going forward. The number of GalNet reports published would be reduced, with the remaining reports focused on in-game activities and significant narrative developments. The intent of this change was to eliminate GalNet's reliance on "off-camera" narratives which, although they provided a wider understanding of life in the Elite Dangerous universe, had little or no relevance to gameplay.[5][6]
Gallery
See also
References
Aerospace
Automotive
Consumer Discretionary
Financials
Health Care
Industrials
Information Technology
GalNet
Materials
Mega Corporations
Community content is available under
CC-BY-SA
unless otherwise noted.