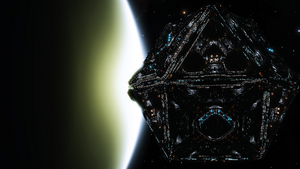 The Galactic Summit was a first of its kind diplomatic conference of representatives of the Alliance, Empire, and Federation that took place at Patterson Enterprise in the Sirius system from February 25 through March 11, 3307. The purpose of the Galactic Summit was to allow the three superpowers to peacefully debate their differences and other problems facing the galaxy in a neutral setting, but a number of independent system representatives also participated. After receiving assurances from the conference's host, Sirius Corporation, that the venue would be adequately secured, the superpowers each agreed to send delegations that included some of their most prominent political figures.
The conference was cancelled on March 11, 3307 following the Nine Martyrs attack, a wave of coordinated bombings on starports in nine major systems carried out by the Neo-Marlinist Liberation Army. While the Galactic Summit produced some successes, most notably the Cornelius-Lasky Convention, what would have been its crowning achievement, the Sirius Treaty, was not finalised or ratified.
History
Prelude
Simguru Pranav Antal of Utopia presented the idea of a Galactic Summit to the public on January 1, 3307, and offered to host the meeting.[1] The idea quickly gained support from members of the public, politicians and prominent figures within the superpowers, and even the anti-Thargoid organisation Aegis.[2] On January 18, however, Sirius Corporation CEO Li Yong-Rui issued a counterproposal to allow Sirius to host the conference, claiming the corporation could provide better security for the event and was already trusted by each of the superpowers.[3] The Sirius Corporation proposal was approved on January 28 after it demonstrated its influence by securing more data submissions than Utopia to plan security operations for the event, and all three superpowers provisionally agreed to send delegations.[4] Notably, the scheduling of the Galactic Summit for late February created a conflict with the election for Alliance Prime Minister, resulting in the Alliance Assembly deciding to delay the election by three months into May 3307 at the request of Edmund Mahon.[5]
The Empire and the Marlinist Colonies announced their delegations on February 12. The Imperial delegation included Chancellor Anders Blaine, Princess Aisling Duval, Senator Denton Patreus, and members of the Imperial Diplomatic Corps. The Marlinist delegation included First Minister Jenna Fairfax and Minister Aaron Whyte.[6] The Federation's delegation was confirmed on February 22. Both President Zachary Hudson and Shadow President Felicia Winters planned to take part, along with ambassadors of the Federal Diplomatic Corps and other representatives of civil and corporate interests.[7] On February 23, Councillor Nakato Kaine announced that she would attend in parallel with the Alliance's delegation, which would include Prime Minister Edmund Mahon.[8]
On February 18, Sirius Corp requested deliveries of rare food commodities to Ashby City in Luyten's Star, which would be ferried to the Sirius system to be served during the Galactic Summit. Participants in the campaign were to be rewarded with a Sirius permit, and the company also planned to make a specially engineered Frame Shift Drive available through Technology Brokers. The announcement that Sirius Corp planned to hold the event in Sirius, a system deep within Federal territory, drew official complaints from the Alliance and the Empire, but Li Yong-Rui countered that his corporation was wholly independent from the Federation, and he offered his personal guarantee that attendees would be protected by diplomatic immunity.[9] The campaign was a success, ensuring the Galactic Summit could begin without delay; the initiative had been considered a priority as some delegates only agreed to attend if their requests for the rare goods were met.[10]
Week One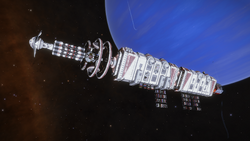 The first delegations began arriving at Patterson Enterprise, the venue for the Galactic Summit, on February 25. To protect the conference from threats uncovered by the earlier data gathering initiative, Sirius Corp announced that it would partner with a different superpower for each week of the event, starting with the Federation, which would donate Federal Assault Ships to the top ten participants. Temporary Sirius system permits were also issued to all independent pilots to allow them to participate. Security and supply operations were overseen aboard the Spirit of Laelaps, a megaship stationed in Sirius for the summit's duration. Core Dynamics, Gutamaya, and Lakon Spaceways also celebrated the summit by placing 10% discounts on their ships for the conference's duration.[11]
February 26, the first full day of the conference, saw opening speeches from Chancellor Blaine, Prime Minister Mahon, and President Hudson followed by the scheduling of events for the next three weeks. There were numerous first-time meetings between galactic leaders. The Marlinist delegation was snubbed by Senator Patreus, but received more warmly by Shadow President Winters and Jasmina Halsey, who accompanied Winters in an unofficial capacity. It was noted that Federal Ambassador Jordan Rochester was absent due to the ongoing fallout from the recent Jupiter Division affair.[12] By March 1, News Feeds from across the galaxy were reporting that friction between the delegates over long-standing issues threatened to derail the proceedings, but a Sirius Corp representative insisted the summit was "going well".[13]
Tempers cooled by March 3, and the three superpowers approved a series of minor treaties. The most notable of these was the Cornelius-Lasky Convention, which required the superpowers to share information on any large-scale threats to civilian populations. Elsewhere, First Minister Fairfax formally apologised to Princess Aisling for the death of her father, Prince Harold Duval, at the hands of the Neo-Marlinist Liberation Army, and also condemned the NMLA's actions.[14]
Week Two
As the Galactic Summit entered its second week on March 4, the Federation handed off security duties to the Empire, which pledged to reward the top ten participants with Imperial Clippers. CEO Yong-Rui also requested deliveries of various standard food commodities to keep the conference well-supplied.[15] The delegates were rocked by the unexpected arrival of pirate warlord Archon Delaine and members of the Kumo Crew, who demanded to be allowed to participate in the Galactic Summit. While Sirius Corporation granted Delaine's group diplomatic immunity and promised that the pirates would conduct themselves by the same rules as the other delegates, a number of ambassadors quit the conference in protest. Members of the superpower delegations chose to continue, but some voiced concern that Delaine's presence would be disruptive. Prime Minister Mahon feared Delaine would distract from his proposed Sirius Treaty to greatly expand the remit of Aegis in the conflict with the Thargoids.[16]
Archon Delaine addressed the Galactic Summit on March 8 and demanded that Kumo Crew and the systems it controlled be formally recognised as a sovereign state under his leadership. Most delegates immediately dismissed the request out of hand, but there was still an intense debate over the issue. Meanwhile, suspicions mounted that the many of the criminal ships continuing to flock to Sirius belonged to Kumo Crew. Sirius Corporation rejected offers from the Federation and Empire to remove Delaine's delegation from Patterson Enterprise.[17]
Discussions turned to the Thargoid conflict on March 9. Professor Alba Tesreau of Aegis garnered broad approval for her plea to increase funding for Aegis, but delegates requested that the xenological research organisation produce new breakthroughs in anti-Thargoid technology to justify the expenditure. Aegis promised to redouble its research into Guardian technology. Prime Minister Mahon's Sirius Treaty also amassed more support, with Archon Delaine, the Marlinist Colonies, and several other independent groups committing to signing. The Federation and the Empire were the last major holdouts.[18]
Cancellation
The Galactic Summit was temporarily suspended on March 11, just as it would have entered its third and final week, when the Neo-Marlinist Liberation Army carried out coordinated bombings at starports in nine systems, including Achenar, Alioth, and Sol, causing the deaths of hundreds of thousands of people. A lockdown was imposed on the Sirius system for security purposes, and the leaders of the affected factions and systems turned their attention to addressing the sudden crisis.[19] Hours later, as concerns were raised that Patterson Enterprise would be the NMLA's next target, the conference was officially cancelled. The Sirius Treaty was left unsigned, and the delegations returned to their home systems under high security.[20] The Spirit of Laelaps remained in Sirius through March 18 to allow pilots to accept their rewards for the conference's support initiatives before it jumped to Luyten's Star.
Timeline
29 SEP 3307
Erik Gunnarson of the Wallglass Investigations Agency discusses the secretive gambling circle attended by the galaxy's wealthiest players. "Casinos and gaming hubs have always been popular, tempting people to risk their credits for the chance to score a lucrative win. But where do the billionaires and trillionaires go to enjoy that buzz? Jokers' Deck is a highly exclusive gambling event attended only by the rich and powerful. Nobody knows who runs it, only that it's held in a different location each time. Its attendees are guaranteed – and can afford – total anonymity. There was one exception. In 3305, Wallglass was hired to find the heiress Lady Talitha Ambrose, after she vanished along with her family's fortune. I was part of the team that discovered she had gambled away 300 billion credits at Jokers' Deck in a high-stakes game of deadlock poker. Their security was so tight that we never learned much more. This year I've been tracking several rumours, such as Jokers' Deck being present at the Galactic Summit and inviting political leaders to settle their differences at the roue mortelle table. But thanks to some costly bribes – which hopefully I can claim back as expenses – I've finally got a solid lead. My partner, Francesca Wolfe, and I should have more to reveal soon. With a little luck we will gain a unique insight into this most privileged of gambling dens. Assuming we play our cards right..."[21]
24 SEP 3307
Negotiations between the Federation and self-styled dictator Yuri Grom are underway to determine the Delta Pavonis system's allegiance. Political correspondent Conrad Sterling published an update for Vox Galactica: "In recent years, Yuri Grom has developed a degree of mystique. He was one of the few leaders not to attend the Galactic Summit, and news from within his dominion was scarce. But now he is visibly relishing the opportunity to confront Federal representatives under the protection of diplomatic immunity. Initial exchanges were belligerent as both sides argued over who would be the most beneficial partner. This was to be expected since Delta Pavonis is one of the Federation's founding systems, and it would be a significant coup for EG Union to establish a presence so close to Sol. What was unexpected was the mutual respect that gradually developed between Yuri Grom and Ambassador Delphine Dumont. Her charming manner clearly appealed to the dictator, even bringing forth his thunderous laughter on occasion. A deal is now being discussed that would allow the Autocracy of Delta Pavonis to have trade and political ties with both parties while remaining independent. Perhaps the Federation has learned some lessons from the recent rebellion, and perhaps Yuri Grom's hatred of the superpower he once served is finally abating."[22]
07 SEP 3307
Prime Minister Edmund Mahon has commented on the Aegis inquiry and his failed proposal to unify anti-xeno operations. As part of an interview with The Alliance Tribune, he said: "The greatest regret of my career is that I was unable to formalise the Sirius Treaty at the Galactic Summit. This would have revolutionised Aegis by providing the commitment and resources it deserves, sparing it the indignity of a public inquiry. The Nine Martyrs attacks prevented that historic occasion, of course, but the Sirius Treaty itself remains viable. I'd be happy to ratify it on behalf of the Alliance if we can convince the other signatories that defending humanity from the Thargoid threat should be our utmost priority." Investigators continue to gather information regarding Aegis's operations. There have been further resignations of key staff, and financial records are being independently audited. Dr Paul Baumann, chair of the board of inquiry, confirmed that charges of criminal negligence could be brought against key figures within Aegis given sufficient evidence. However, there is uncertainty as to which court would deal with legal proceedings for a tri-superpower organisation.[23]
27 AUG 3307
The Marlinist Colonies are recovering from a period of political infighting and inter-faction conflict. Octavia Volkov has been voted in as the new first minister following a snap election. Her decisive action against Aaron Whyte's Neo-Marlinist movement, which led to the elimination of the NMLA's political wing, drew huge support from voters. In a parliamentary address, First Minister Volkov said: "We must focus on building an independent society rather than changing the Empire. In time we will evolve into the fully-fledged Marlinist Republic we have fought so hard for, and perhaps inspire our Imperial cousins to walk the path to democracy." Marlinist factions now control all eight of their original colony systems, some of which had temporarily fallen under external governance. They have also expanded into a handful of new systems. Prime Consul Kayode Tau, the chief ambassador of the Marlinists, has established formal channels with the Alliance Office of Diplomatic Relations and the Federal Diplomatic Corps. The Empire recognises the Marlinist Consulate, but maintains a distant relationship with what many consider to be subversive ex-Imperials. The ceremonial funeral of First Minister Jenna Fairfax has taken place. Speakers drew attention to her achievements and leadership qualities. In a gesture that many viewed as an olive branch from the Empire, Princess Aisling Duval attended virtually and spoke of her meeting with Fairfax during the Galactic Summit.[24]
03 AUG 3307
The Alliance, Empire and Federation have clarified their official positions regarding the emergence of onionhead gamma strain. All variants of the popular psychedelic drug remain illegal within Federal space. Ambassador Jasmina Halsey, who was president in 3300 when the ruling was made, announced: "I am pleased that my decision to outlaw onionhead stands. I still maintain that it leads to experimentation with more dangerous narcotics, and we must steer our youth away from that path." The Empire has also declared onionhead illegal, despite rumours that it is imported by the wealthiest citizens for private use. Princess Aisling Duval told the media: "It was insulting enough that Delaine was allowed into the Galactic Summit, but now he's peddling filthy drugs and pretending it's medicine! I only pray that nobody loses a loved one to such poison, as I have." The Alliance has not made a broad ruling regarding onionhead, which is illegal in the majority of member systems but available in those classified as having anarchy governments. However, Deputy Prime Minister Angela Corcoran addressed the issue: "As with most trade, we defer to the legislation of local authorities. But we are in contact with the IHO and are keeping a close eye on the situation." Onionhead gamma strain remains on sale in selected systems governed by industrial anarchy factions.[25]
15 JUN 3307
The galaxy's largest megacorporation is continuing to influence the political arena and affect billions of lives. A review was published by Marlon Royce, business analyst for Vox Galactica: "With its own government, laws and naval fleet, it's not surprising that Sirius Corporation is occasionally referred to as 'the fourth superpower'. That now seems to be its actual goal, as its impact upon interstellar politics increases. When Sirius Corporation resettled the Marlinist refugees in their own colony systems, it averted war between the Empire and the Federation. But this seemingly altruistic move enabled CEO Li Yong-Rui to claim political neutrality, gaining public support to host the Galactic Summit in the Sirius system. That success was undermined by the controversy of granting diplomatic status to pirate warlord Archon Delaine. Rumours of secret business dealings were reinforced when Sirius subsidiaries appeared alongside the Kumo Crew's new starports. High-level agreements were also made with the Alliance, with Sirius Atmospherics aiding colonisation of the Coalsack Nebula. But some believe that its project to terraform ammonia worlds brought retaliatory strikes from the Thargoids and enormous casualties. The latest news is of a collaboration with technology brokers to make a previously limited ship module commercially available. Is this a shrewd business decision, or part of Sirius Corporation's strategy of political dominance?"[26]
17 MAY 3307
The front-runner candidates in the Alliance election have stepped up their campaigns, amid widespread political and civil unrest. Prime Minister Edmund Mahon and Councillor Nakato Kaine are touring across the Alliance, gathering public support to sway the Assembly when it votes on the 27th of May. Attending a business sector conference on the planet Industry in the Zaonce system, Prime Minister Mahon stated: "We've heard a lot of reactionary rhetoric from Councillor Kaine, but it's much easier to be critical than constructive. She has done little to secure the prosperity of our people and companies, which was my primary focus over the last six years." At a protest march on New Caledonia in the Alkaid system, Councillor Kaine addressed the crowd: "Again, the Thargoids lash out at our presence. Again, we prop up the other superpowers. Again, we pump money into Aegis and Lakon but not our own economies. Nothing changes, unless Mahon is voted out and the Alliance takes a new direction!" Opinion polls suggest that Mahon has retained majority support, but with a narrower margin than in February when the election was originally scheduled. Many agree with Kaine that the Alliance should not have participated in the Galactic Summit, which led to the 'Nine Martyrs' bombings.[27]
10 MAY 3307
The election of the Alliance prime minister will take place on the 27th of May, having been postponed due to the Galactic Summit. Vanya Driscoll, political correspondent for The Alliance Tribune, reported: "Prime Minister Edmund Mahon's decision to postpone the election for three months caused enormous disruption and mass protests. This may have mortally wounded his campaign to be re-elected as head of government for a second six-year term. With hindsight it's clear that Mahon was prioritising the Sirius Treaty, a detailed proposal to unite the superpowers against the Thargoids. Unfortunately, the Galactic Summit was prematurely halted by the 'Nine Martyrs' bombings before the treaty could be agreed. Although there are several candidates, Mahon's only serious challenger is Councillor Nakato Kaine. She has been a vocal critic of his expansionist policies, and gained much public support for her focus on boosting trade between Alliance systems. Electoral votes will be cast by members of the Alliance Assembly, whose decisions reflect popular opinion in their constituencies. No previous prime minister has served more than a single term, so it remains to be seen whether Mahon will defy precedent or Kaine will follow the pattern of history."[28]
26 MAR 3307
Former President Jasmina Halsey has joined the Federal Diplomatic Corps to become an ambassador to the Alliance. In recent years Halsey served as an advisor to Prime Minister Mahon, but returned to the Federation in January to stand as a witness in the Starship One trial. She was a guest of Shadow President Felicia Winters at the Galactic Summit, and both were evacuated back to Mars when it was cancelled. At a press conference, Ambassador Halsey said: "Being at the conference reminded me that the political arena is where I belong. My new responsibilities allow me to continue serving the Federation while making use of my experience within the Alliance, and hopefully build stronger bridges between the two." Elijah Beck, head of the Alliance Office of Diplomatic Relations, sent this message: "Jasmina's level-headed advice has calmed many tense political situations. This is the ideal role for a diplomat of her calibre, and I look forward to working with her again." In related news, the Federal Diplomatic Corps confirmed that Ambassador Jordan Rochester had been recalled from duty to be reassigned. Most of the Empire and Federation's embassies in each other's space have been closed since November 3306.[29]
17 MAR 3307
The Alliance, Empire and Federation have created a centralised agency dedicated to investigating and eliminating the NMLA paramilitary group. The new Affiliated Counter-Terrorism unit (ACT) is a direct result of the Cornelius-Lasky Convention, which was signed at the Galactic Summit. This treaty requires the superpowers to share information on any large-scale threats to civilian populations. With a combined death toll rising over half a million, the recent starport bombings have obtained such status. ACT will be jointly led by the veterans of the tri-superpower taskforce that defeated the League of Reparation in 3304: Captain Niamh Seutonia of the Imperial Internal Security Service, Inspector Mara Klatt of Alliance Interpol, and Senior Agent Tanya Ramirez of the Federal Intelligence Agency. Captain Seutonia gave a brief statement: "ACT is an independent organisation dedicated to bringing the NMLA to justice. We will draw resources from Alliance, Empire and Federation security forces and elsewhere. However, we foresee the need for even larger numbers of dedicated personnel. Therefore, we have contacted the Pilots Federation for permission to invite independent pilots to gather information for us when necessary." Pilots are advised that civilians still require transportation from damaged starports in the Achenar, Alioth, Eotienses, Gateway, Kamadhenu, Lave, Nanomam, Rhea and Sol systems.[30]
15 MAR 3307
Political fallout has been intense after the NMLA simultaneously bombed nine starports in the Alliance, Empire and Federation. The targeted stations are in the Achenar, Alioth, Eotienses, Gateway, Kamadhenu, Lave, Nanomam, Rhea and Sol systems. These were referred to by NMLA propaganda as the 'Nine Martyrs', a reference to the attack against Kepler Orbital last November. All three superpowers are treating this as a major emergency. Top-level discussions have taken place between their chiefs of security, using communication protocols recently established at the Galactic Summit. However, mainstream media has also reported on internal political tensions.
The Imperial Herald: "Senator Patreus proposed that all known Marlinists be arrested immediately as NMLA collaborators. He received a direct rebuke from Chancellor Blaine, who said 'Her Majesty views your blunt tactics as having been counter-productive, and requires more creative solutions.'"
The Federal Times: "President Hudson opened Congress with a minute's silence to honour VP Brad Mitchell and other deceased Cabinet members. He then directly blamed Shadow President Winters for their deaths, claiming 'You invited terrorists with your virtue-signalling aid programme for fake refugees!'"
The Alliance Tribune: "The Assembly broadly welcomed Prime Minister Mahon's call for unity against the NMLA, and praised his efforts on the Sirius Treaty despite it remaining unsigned. But there was also support for Councillor Kaine's viewpoint: 'Our entry fee for the Galactic Summit was hundreds of thousands of lives.'"[31]
12 MAR 3307
Vice President Brad Mitchell and a number of Federal Cabinet members have been killed in the recent terrorist attack on a starport orbiting Earth. The NMLA planted caustic enzyme explosives at Li Qing Jao station, where a government meeting was taking place. The VP and Cabinet members were confirmed to be among tens of thousands of casualties. Eight other starports across all three superpowers were simultaneously bombed. President Zachary Hudson, who was attending the Galactic Summit during the attack, made this statement: "This atrocity is nothing less than a declaration of war, and we will respond accordingly. For now, we mourn the loss of my close friend Brad Mitchell and other heroes of the Federation. I will personally appoint replacements to their positions soon." The Federation has directly accused the Empire of being responsible, by allowing Neo-Marlinist bomb-makers to escape from a secret prison facility. The Imperial Senate reiterated that 'Serene Harbour' does not exist and is part of a Federal disinformation campaign. Followers of Marlinism have also received much public criticism. The Marlinist Colonies have repeatedly stressed that they do not support the NMLA and are unconnected to the attacks. Independent pilots have been asked to assist rescue and repair operations in the Achenar, Alioth, Eotienses, Gateway, Kamadhenu, Lave, Nanomam, Rhea and Sol systems.[32]
11 MAR 3307
The conference in the Sirius system has ended prematurely after terrorist bombings against nine starports across the Alliance, Empire and Federation. Sirius Corporation confirmed that the cancellation was due to fears that Patterson Enterprise station may be the next target. All scheduled business, including finalising the Sirius Treaty, has been halted. The delegations are returning to their home systems under high security. Temporary permits for the Sirius system will remain in place for one week. Pilots who contributed to the security and trade initiatives held in partnership with the Empire can collect their rewards at the Spirit of Laelaps. Core Dynamics, Gutamaya and Lakon Spaceways will continue to offer a 10% discount on all their ships for one more week. The Neo-Marlinist Liberation Army has claimed responsibility for the simultaneous attacks in nine systems, including superpower capitals Achenar, Alioth and Sol. The following message was broadcast on NMLA propaganda channels: "I no longer have a name. Nor a family. Nor a future. Each taken by the Empire. Now all I have is the dehumanising number printed on my uniform in their torture chambers. Now all I am is Theta Seven. The Alliance and Federation's rulers have revealed themselves as imperialist supporters of the Duval dynasty, which has crushed our ideals for a thousand years. Peoples of the galaxy – you can change this. We give you your own Nine Martyrs. Use them to retake control and regain your power." Media newsfeeds are detailing the impact and implications of the attacks. There is speculation that NMLA activists were concealed among Marlinist refugees that fled to Alliance and Federation space to escape Imperial persecution. The Marlinist Parliament has officially stated it has "no connection to Neo-Marlinist extremists", and that it will cooperate with security and emergency services during this crisis.[20]
11 MAR 3307
*Pilots Federation ALERT*
Explosions have struck starports across the Alliance, Empire and Federation in a coordinated bombing attack by the NMLA. The capital systems of all three superpowers – Achenar, Alioth and Sol – have been targeted by the terrorists, as well as six other high-population systems. Precise casualty numbers are unavailable, but several hundred thousand people have been killed with many more injured. There are urgent calls for independent pilots to rescue survivors and support repair operations at all nine locations:
Dawes Hub in the Achenar system
Donaldson in the Alioth system
Dublin Citadel in the Gateway system
Hahn Gateway in the Nanomam system
Ito Orbital in the Rhea system
Lave Station in the Lave system
Li Qing Jao in the Sol system
Parkinson Dock in the Eotienses system
Shajn Market in the Kamadhenu system
The explosive damage to each station is consistent with corrosive enzyme weapons previously used by the NMLA. This has triggered automated systems designed to respond to Thargoid assaults. The Alliance Defence Force, Federal Navy and Imperial Navy are on full alert. Other military and security forces across the core systems are preparing for possible further attacks. The Galactic Summit has been temporarily suspended while Alliance, Empire and Federation leaders respond to the emergency. A full lockdown is in effect in the Sirius system, where the scheduled bounty hunting and trade initiatives have been cancelled.[19]
09 MAR 3307
Potential solutions to the threat posed by the Thargoid race are being debated at the diplomatic conference in the Sirius system. Political correspondent Conrad Sterling reported for Vox Galactica: "As always, the topic of the Thargoids brings division. The Alliance delegation has portrayed the aliens as a universal danger, while the Empire and Federation took a more balanced view. Professor Alba Tesreau's plea to increase support for Aegis was well received, but many delegates argued that further anti-xeno breakthroughs were needed to justify additional funding. To this end, Aegis will undertake new research into the Guardians, hoping to discover a technological advantage from that ancient species. Prime Minister Mahon's proposal for strategic cooperation against the Thargoids – known as the Sirius Treaty – is now being examined in detail. Supporters view it as a logical progression from the recently agreed Cornelius-Lasky Convention. There was minor uproar when Archon Delaine agreed to be a signatory. Coupled with similar commitments from the Marlinist Colonies and other independents, this has brought pressure upon the Empire and Federation to follow suit. If ratified, the Sirius Treaty could be the crowning achievement of the conference. However, putting it into practice will require a huge influx of resources. Decisions are expected before the end of this week."[18]
08 MAR 3307
At the Galactic Summit, the infamous pirate leader Archon Delaine has demanded to be accepted as the legitimate leader of a political power. A gap in the schedule allowed him to make an address in the main conference chamber: "Most of you see me as a common criminal, rather than the rightful ruler of multiple systems. That must end now! My efforts to build a Kumo nation deserve respect. I am here to declare my sovereignty and take my rightful place on the political stage." This was immediately dismissed by many delegations. Princess Aisling Duval said this was a barbaric mockery of nobility, while Shadow President Winters asked how much bloodshed the pirates had caused to obtain their power. Archon Delaine replied: "Are you all so innocent, then? Every civilisation begins with barbarism, and maintains authority with the threat of violence. None of you can say otherwise. We all wear a crown of bones." There followed intense debate as to whether the Kumo Crew's territory could be recognised as a new nation-state or was simply a rebranded crime syndicate. There is suspicion that some of the many criminal vessels detected in the Sirius system are from Delaine's pirate fleet. The Federal and Imperial delegations have offered to remove Archon Delaine's retinue, only to be reminded that Sirius Corporation has granted them full diplomatic immunity.[17]
04 MAR 3307
Pirate warlord Archon Delaine has unexpectedly appeared at the diplomatic conference and demanded to participate as a political delegate. Delaine is the leader of the Kumo Crew, a notorious crime syndicate that controls dozens of systems. Their arrival at Patterson Enterprise station initially caused many delegations' security teams to begin evacuations. However, representatives of the Sirius Corporation called for calm and delivered this message: "We have vouchsafed Archon Delaine's presence and extended full diplomatic immunity to his retinue. As with all attendees, they are expected to abide by our rules and etiquettes." This reassurance did not prevent several ambassadors from walking out in protest. Some accused Sirius Corporation of striking a deal with Delaine to prevent even more pirate vessels from swarming through the Sirius system. Mainstream newsfeeds also covered the impact of Delaine's arrival.
The Imperial Herald: "Senator Patreus officially complained about 'the repulsive sight of pirate scum strolling alongside respectable politicians'. However, Chancellor Blaine agreed that Delaine could address the conference, albeit under close scrutiny."
The Federal Times: "Neither Hudson nor Winters have commented on Delaine's appearance, but the security chief for the Federal delegation remarked: 'One wrong step and we'll put some big holes right through their immunity.'"
The Alliance Tribune: "This is an unwelcome distraction from Prime Minister Mahon's proposal for Aegis's remit to be enormously expanded. The Sirius Treaty will fully unite superpowers, corporations and independent systems against the Thargoids – assuming that Mahon can convince his fellow leaders to agree."[16]
04 MAR 3307
*Pilots Federation ALERT*
The Empire is aiding Sirius Corporation by offering bounty hunting and trade opportunities to support the Galactic Summit. The diplomatic conference is now entering its second week, with superpower and independent leaders gathered at Patterson Enterprise in the Sirius system. Sirius Corporation's CEO Li Yong-Rui announced: "Our thanks to the Federation for organising additional security against unexpected numbers of vessels this past week. Anarchic extremists, political enemies and opportunistic criminals all attempted to disrupt the conference to no avail. Pilots who helped maintain the peace can collect their rewards at the Spirit of Laelaps. For the coming week, we are working with the Empire to maintain the security operation by offering bounties on all wanted ships. The Empire will also pay generously for extra supplies of animal meat, coffee, fish, fruit and vegetables, and wine that are delivered to the Spirit of Laelaps." Pilots are reminded that neither permanent nor temporary permits to enter the Sirius system apply to fleet carriers. This joint initiative will run for one week, followed by Sirius Corporation partnering with the Alliance for the final week of the Galactic Summit. In related news, Core Dynamics, Gutamaya and Lakon Spaceways are continuing to offer a 10% discount on all their ships to mark the historic occasion.[15]
03 MAR 3307
Leaders from the Alliance, Empire and Federation have agreed a series of minor treaties at the diplomatic gathering in the Sirius system. Vox Galactica featured this report from political correspondent Conrad Sterling: "Following days of heated arguments, temperatures in the conference chamber finally cooled enough for all three superpowers to formalise a raft of agreements. These were ratified in person by Chancellor Blaine, President Hudson and Prime Minister Mahon. The most significant of these treaties is the Cornelius-Lasky Convention, named after its two leading proponents. This requires the Alliance, Empire and Federation to share information on any large-scale threats to civilian populations, including environmental, medical and xenological crises. There has been slow progress on other topics, such as military limitation and border control. Many independent ambassadors are demanding to prioritise debates on the Thargoid issue, and especially the defensive role played by Aegis. Outside the chamber, First Minister Fairfax invited Princess Duval to a small ceremony to honour her late father. Fairfax formally apologised for Prince Harold's death and condemned the terrorists responsible. Aisling Duval gracefully accepted this, but time will tell if it was an empty gesture or the first step toward Imperial-Marlinist rapprochement."[14]
01 MAR 3307
26 FEB 3307
Alliance, Empire and Federation leaders have held their first ever face-to-face discussions at the diplomatic conference in the Sirius system. Political correspondent Conrad Sterling published this report for Vox Galactica: "The Galactic Summit has already made history by bringing together many political figureheads within one conference chamber. Optimistic opening statements from Chancellor Anders Blaine and Prime Minister Edmund Mahon gained applause. President Zachary Hudson was more curt, reminding everyone that billions of people would be affected by their efforts. Agendas and debate topics for the next three weeks were formalised. Much of the work will be done behind the scenes by ambassadorial staff, making big decisions in small rooms. The general tone so far has been courteous, although that may not last. Predictably, interactions between the Imperial and Marlinist delegations have been frosty, with Senator Denton Patreus refusing to even acknowledge their presence during discussions. However, First Minister Jenna Fairfax enjoyed a more cordial meeting with Shadow President Felicia Winters. They were joined by Jasmina Halsey, who has accompanied Winters from Mars in an unofficial capacity. One notable absentee was Federal Ambassador Jordan Rochester, whose family is under legal scrutiny following the crimes of his older brother Jupiter Rochester. This at least spared Jordan the awkwardness of having to formally greet his ex-fiancée, Princess Aisling Duval. But it's likely there will be no shortage of tension between other delegates in the coming weeks."[12]
25 FEB 3307
*Pilots Federation ALERT*
The Federation is working with Sirius Corporation to offer bounty hunting opportunities to protect the diplomatic conference. The first Galactic Summit has officially opened at Patterson Enterprise station in the Sirius system. Temporary permits have been issued to all arriving delegates and Commanders for the three weeks of its term, although these do not apply to fleet carriers. Sirius Corporation's CEO Li Yong-Rui announced: "The data supplied to us in January revealed several unanticipated threats, putting additional strain on our navy and security forces. Working with the generous support of the Federation, we have placed bounties on all wanted ships to ensure delegates' safety. Pilots defending the Sirius system will be rewarded for handing in bounty vouchers at the Spirit of Laelaps." The joint initiative will run for one week, after which Sirius Corporation will partner with the Empire to provide for the needs and security of the conference. In related news, Core Dynamics, Gutamaya and Lakon Spaceways are celebrating the political gathering of all three superpowers with a 10% discount on their ships during the next three weeks. Delegations have begun to arrive and formal introductions are taking place, with much media attention. This is the first time that universally recognised figures such as President Zachary Hudson, Prime Minister Edmund Mahon and Princess Aisling Duval have been seen side by side.[11]
25 FEB 3307
*Pilots Federation ALERT*
A wide range of luxurious food and drink for the Galactic Summit has been delivered to the Sirius Corporation. Orders were placed for Eden Apples Of Aerial, Ethgreze Tea Buds, Gerasian Gueuze Beer, Giant Irukama Snails, Goman Yaupon Coffee, Karsuki Locusts and Lavian Brandy. Large quantities of these rare items were shipped to Ashby City in the Luyten's Star system. The consumables will be ferried to the nearby Sirius system, where the diplomatic conference will take place. This initiative was considered a priority, since some delegates only agreed to attend if their requests for these rarities were met. CEO Li Yong-Rui has expressed his personal thanks to all pilots who delivered the rare goods, who can now collect their payment at Ashby City in the Luyten's Star system. Sirius Corporation has been organising the Galactic Summit for the past month, which has involved increased freight runs into its home system as well as heightened security. Preparations are now complete, and the first ambassadors from the Alliance, Empire and Federation are on their way.[10]
23 FEB 3307
The postponement of the election for a new prime minister has led to widespread public disorder across Alliance systems. The Alliance Assembly vote was scheduled for Thursday the 25th of February. This date clashed with the start of the Galactic Summit, causing incumbent Prime Minister Edmund Mahon to propose that the election be delayed for three months. On many Alliance worlds, large-scale protest marches have placed pressure on local police forces. Some civil leaders have condemned Mahon for using the diplomatic conference as an excuse to extend his term of office. Mahon has referred to the unrest as being caused by a "vocal minority of agitators", and insisted that the delay is in the Alliance's best interests. Councillor Nakato Kaine, Mahon's main rival, has given the protests her full support. She has become a figurehead for public dissent, with some political pundits suggesting that she might have won the election had it been held this week. Speaking to The Alliance Tribune, Councillor Kaine said: "This is the latest in a string of short-sighted decisions, and it's clear that the people no longer trust their prime minister. For this reason, despite believing the Galactic Summit to be a waste of time, I will be attending the conference to ensure that Mahon's agenda does not dominate proceedings."[8]
22 FEB 3307
President Zachary Hudson and Shadow President Felicia Winters will both attend the diplomatic conference in the Sirius system. The Federation will also be represented by ambassadors from the Federal Diplomatic Corps, as well as several civil and corporate interests. Political correspondent Sofia Trevino reported for The Federal Times: "President Hudson's personal presence at the Galactic Summit sends the message that he still holds the reins of power. He clearly hopes that facing off against the Empire's leaders will distract the public from the recent Jupiter Rochester scandals. In his absence, Vice President Brad Mitchell will oversee congressional matters. There are rumours that Mitchell is positioning himself to challenge Hudson as the Republican Party candidate in the next election. The conference also offers opportunities for Felicia Winters to appear presidential. She has eagerly agreed to meet the Marlinist Colonies delegation, having coordinated humanitarian aid for the refugees last year. Winters has not asked Shadow VP Isolde Rochester to accompany her, perhaps as a rebuke for the criminal actions of her son. Furiously working on damage control for her family's name, the Rochester matriarch has taken Jupiter's two children into her care after his husband, Tomas Turai, filed for immediate divorce."[7]
18 FEB 3307
*Pilots Federation ALERT*
Sirius Corporation has requested deliveries of consumables to Luyten's Star for the forthcoming diplomatic conference. The Galactic Summit will take place in the Sirius system and last for three weeks, beginning on Thursday the 25th of February. It will be attended by leaders from the Alliance, Empire and Federation, plus representatives from independent systems. Sirius Corporation has placed orders for these rare commodities: Eden Apples Of Aerial, Ethgreze Tea Buds, Gerasian Gueuze Beer, Giant Irukama Snails, Goman Yaupon Coffee, Karsuki Locusts and Lavian Brandy. All shipments are to be delivered to Ashby City in the Luyten's Star system. They will then be ferried to Sirius before the conference begins. CEO Li Yong-Rui discussed these preparations at a media event: "We will provide all honoured delegates with a comfortable, luxurious environment. This includes offering the finest cuisine from across the galaxy." Several journalists pointed out that both the Alliance and Empire had registered official complaints about the Galactic Summit's location being situated deep within Federal space. Li Yong-Rui responded: "I assure you that the Sirius system is politically neutral territory, and Sirius Corporation remains independent from the Federation. I can personally guarantee the safety and diplomatic immunity of all attendees."[9]
12 FEB 3307
Delegations have been formed by the Empire and the Marlinist Colonies to take part in the forthcoming diplomatic conference. Emperor Arissa Lavigny-Duval will not attend in person, but will be directly represented by Chancellor Anders Blaine. During the conference, Senator Zemina Torval will temporarily assume chancellor duties and act as head of the Senate. In addition, Princess Aisling Duval and Senator Denton Patreus will be in attendance. They will be accompanied by experienced ambassadors from the Imperial Diplomatic Corps. The Marlinist Colonies have also finalised their delegation, which includes First Minister Jenna Fairfax and Minister Aaron Whyte. A spokesperson for the Marlinist Parliament said: "The Galactic Summit offers us an opportunity to engage with the Empire diplomatically, and we sincerely hope our voices will be heard. We also aim to establish mutually beneficial relations with other governments." There is widespread speculation on how the Empire will respond to political overtures from its own ex-citizens, who were persecuted for following the democratic ideology of Marlinism. However, most societies within the Marlinist Colonies still remain culturally Imperial in nature, despite their republican governance. The Galactic Summit is being hosted by Sirius Corporation and will officially commence on Thursday the 25th of February 3307.[6]
01 FEB 3307
The Alliance Assembly has agreed to delay electing a new prime minister to avoid clashing with the forthcoming Galactic Summit. The proposal to postpone the election date came from Prime Minister Edmund Mahon: "Now that the diplomatic conference has been confirmed, we must adapt to take advantage of this historic event. A potential change in leadership occurring at the same time as the Galactic Summit would cause confusion and undermine the Alliance's presence." Although Mahon's proposal was voted through by a narrow margin, many council members disagreed with altering the political calendar. Councillor Nakato Kaine, who is a candidate in the election, declared: "It is outrageous that the prime minister is using this as an excuse to extend his term in office. Once again, he is more concerned with projecting the Alliance as a superpower than the interests of member systems. This behaviour is what you'd expect from a corrupt emperor or president, clinging onto power at any cost." The Assembly has rescheduled the election to take place three months later in May 3307, although this remains only provisional.[5]
28 JAN 3307
*Pilots Federation ALERT*
Sirius Corporation has received more data than Utopia and will therefore host the Galactic Summit. Both organisations proposed to organise a diplomatic conference for the Alliance, Empire and Federation. After calling on the galactic community to gather data that would support security operations, many pilots handed in anomalous bulk scan data, atypical disrupted wake echoes, exceptional scrambled emission data and unusual encrypted files. All three superpower governments confirmed that due to its success in preparing effective security systems, they will accept Sirius Corporation as the neutral territory for the conference. CEO Li Yong-Rui made this announcement: "Thank you to all the independent pilots who supported us. Sirius will now begin work preparing for the first Galactic Summit, which we hope will increase peace and prosperity across the galaxy." Pilots who delivered to Sirius Corporation can collect their rewards from Goldstein Port in the Lembava system. Simguru Pranav Antal expressed disappointment, but confirmed that all who contributed to Utopia's initiative will be rewarded at Tanner Settlement in the Polevnic system. Sirius Corporation has stated that the Galactic Summit is provisionally scheduled to take place over a three-week period in late February and early March.[4]
21 JAN 3307
*Pilots Federation ALERT*
Rival initiatives to arrange a diplomatic conference have been launched by Sirius Corporation and the Utopia commune. The Alliance Assembly, Federal Congress and Imperial Senate have each provisionally agreed to send delegates to the first tri-superpower Galactic Summit in late February. This political gathering will also be attended by representatives from independent systems. All parties have specified that their participation depends upon the event being successfully organised in neutral territory, and with sufficient resources and security in place. Sirius Corporation and Utopia have begun to gather supplies to host the conference. Both have requested assistance from the galactic community to provide a broad range of data, which will be vital for planning security operations. Whichever organisation obtains the greatest amount of data will be deemed most suitable. The following data sources are of interest to both parties: anomalous bulk scan data, atypical disrupted wake echoes, exceptional scrambled emission data and unusual encrypted files. Simguru Pranav Antal has called upon all pilots who support Utopia's proposal to deliver the data to Tanner Settlement in the Polevnic system. CEO Li Yong-Rui has asked all those who believe Sirius Corporation to be a more suitable host to deliver the data to Goldstein Port in the Lembava system.[33]
18 JAN 3307
Utopia's ability to host a diplomatic conference for all three superpowers has been challenged by the Sirius Corporation. The megacorp's counter-proposal was announced by CEO Li Yong-Rui: "With all due respect to Simguru Antal, his commune cannot match our level of resources. Sirius is far better placed in terms of logistics and security, and our navy will be able to ensure the safe transportation of all delegates. Furthermore, we already have excellent commercial relationships with the Alliance, Empire and Federation, and can therefore guarantee neutrality. Our recent philanthropic gesture at creating the Marlinist Colonies proves that we are an impartial, stabilising force for the whole galaxy." Discussions regarding the conference have been ongoing in superpower and independent systems alike. Some leaders have decried it as a pointless exercise, while others view it as a rare opportunity for political cohesion. Sirius Corporation and Utopia's propositions for a Galactic Summit are now being compared by potential attendees. However, Zachary Rackham's offer to host the conference at the actual galactic summit of Rackham's Peak is not being seriously considered.[3]
08 JAN 3307
The organisation Aegis has expressed support for Utopia's offer to host a Galactic Summit for all three superpowers. Aegis was jointly formed by the Alliance, Empire and Federation to study the Thargoids, and develop new methods of monitoring and combating their forces. Professor Alba Tesreau, head of research at Aegis, gave this statement: "Humanity's focus on petty internal conflicts has blinded us to the existential threat of the Thargoids. Their recent horrific attacks should be a wake-up call to the fact that defunding has crippled Aegis's ability to offer protection. We strongly entreat our founders to come together and channel resources toward Aegis, and particularly into research. There can be no hope of coexistence with this alien species unless we increase our understanding of them." No official responses to Utopia's proposal have been made as yet. However, Prime Minister Edmund Mahon, Princess Aisling Duval and Shadow President Felicia Winters have all signalled broad approval of the idea. There are reports that many congressmen, councillors and senators are pressuring their respective leaders to attend the diplomatic conference. Simguru Pranav Antal has confirmed that the governments of independent systems will also be welcome to send delegates to the Galactic Summit. However, Utopia's primary aim is to provide neutral territory for the Alliance, Empire and Federation to debate policies.[2]
01 JAN 3307
Simguru Pranav Antal, leader of the Utopia commune, has proposed hosting a diplomatic conference for the governments of all three superpowers. The intention is to provide a neutral location to discuss key issues such as the renewed Thargoid attacks, the Marlinist refugee crisis, and hostilities between the Empire and the Federation. Details have been sent to the Alliance Assembly, Federal Congress and Imperial Senate. Pranav Antal has also broadcast his invitation across all media channels: "It is not Utopia's tradition to become involved with politics, but recent events are of great concern to us all. Interstellar war, terrorism, alien incursion and economic collapse are the new four dark horsemen that threaten humanity's future. We therefore offer to host a Galactic Summit where the Alliance, Empire and Federation may debate these problems peacefully. My sincere hope is that the heads of state grasp this opportunity to resolve their differences and create solutions that benefit their peoples." Utopia is an independent society with a focus on using highly advanced technology to increase quality of life. Should this Galactic Summit take place, it would be the first diplomatic meeting of all three superpower governments.[1]
References