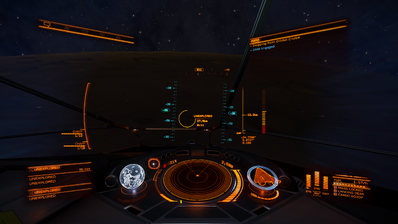 Glide is a way to travel faster towards a planet between Orbital Cruise and Normal Speed. During Glide the ship will travel 2,500 m/s between altitudes 25.0 and 3 km.
Pitching too far up will end the glide early and transition the ship into Normal speed. Pitching too far down will result in an emergency drop, causing damage.[1] Similarly, excessive yaw during Gliding will result in blackout-type visual effects.
Glide will engage only if the entry angle is kept between -5 and -60 degrees while dropping out of Orbital Cruise, and only if the speed is sufficiently low; hitting the Glide point too fast will result in an emergency drop.
Pilot Training Video
Edit
References
Edit
↑ From orbit down to Europa, David Braben, YouTube