| | |
| --- | --- |
| | Parts of this article have been identified as out of date. Please update this article to reflect the current version of the game, and remove this template when finished. |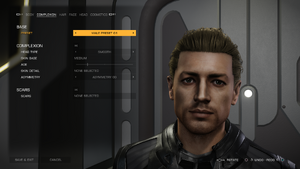 Holo-Me is the name of the character customization feature for the player's commander. It allows deep character customization. For example, players can change their suit, many head and facial features, gender and other cosmetics. Players can customize their character at any time. Holo-Me requires the Elite Dangerous: Horizons expansion.
Holo-Me can be accessed from the Status tab of the right-side Systems panel, and also from the Station Services menu.
The animated commander is visible in camera views both within and outside the ship. The custom commander's image is used in the Comms panel and on the Station Services menu.
Technology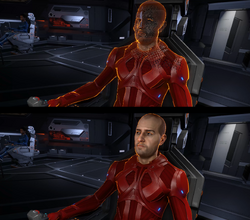 The Holo-Me is a holographic representation of what you're going to look like. It then applies it to your Commander, who is a real person sitting in a chair.[1] The crew that joins your ship (multicrew) through telepresence are holograms.[2] Holograms are also used for the HUD in a ship.
Pilots wear Remlok suits which protect them from all sorts of hazards and provide performance enhancers.
Add-ons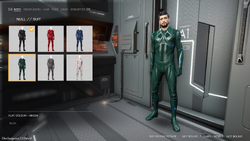 There are some free and additional cosmetics such as flight suits, tattoos and glasses that can be purchased at the Frontier Store.
These Holo-Me cosmetics are currently free in the store:
Notes
The Holo-Me was released in update 2.3 The Commanders.[3]
References
Videos
Gallery
Community content is available under
CC-BY-SA
unless otherwise noted.