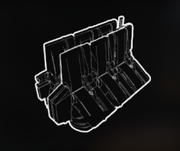 Increases the ship's hull integrity and resistance to damage.

— In-Game Description
Hull Reinforcement Packages are used to strengthen the hull against attacks. They add hull points as well as resistance against all damage types.
They are available up to class 5 and in ratings D and E only. Compared to D-rated ones the E-rated ones are twice as heavy and offer 30-40 less hull Points, but are cheaper.
Specifications
Class
Rating
Mass (T)
Kinetic
Resistance
Thermal
Resistance
Explosive
Resistance
Armour
Addition
Value (CR)
1
E
2.00
0.5%
0.5%
0.5%
80
5,000
1
D
1.00
0.5%
0.5%
0.5%
110
15,000
2
E
4.00
1.0%
1.0%
1.0%
150
12,000
2
D
2.00
1.0%
1.0%
1.0%
190
36,000
3
E
8.00
1.5%
1.5%
1.5%
230
28,000
3
D
4.00
1.5%
1.5%
1.5%
260
84,000
4
E
16.00
2.0%
2.0%
2.0%
300
65,000
4
D
8.00
2.0%
2.0%
2.0%
330
195,000
5
E
32.00
2.5%
2.5%
2.5%
360
150,000
5
D
16.00
2.5%
2.5%
2.5%
390
450,000
Engineer Modifications
The following modifications can be applied to this module by Engineers to enhance its abilities:
Notes
Trivia