Ian Colin Graham Bell is a British game programmer, game designer and game producer. He is best known for co-developing the original Elite with David Braben in 1984.[1]
Ian Bell was born on born 31 October 1962 in Hatfield, Hertfordshire. He attended St Albans School and studied at Jesus College, Cambridge.[1] Initially he specialized in pure mathematics and finally optimisation techniques.[2] He graduating with a 1st class honors degree in Mathematics (MA) in 1985, and a Cambridge Diploma in Computer Science in 1986.[2]
While at Jesus College, Cambridge, Ian Bell wrote the computer game Free Fall.[2] Bell was already working on a video game before meeting David Braben in Cambridge. Braben wanted to do something with 3D graphics on the BBC Micro so they collaborated and created Elite.[3]
After the commercial success of Elite he became a hobbyist programmer and studied martial arts.[2] He's specialized in algorithm design and programming in C/C++ and Assembly (6502, ARM, Intel).[2] Bell also worked as a Senior Software Engineer for Autodesk. He went on to live in rural East Anglia, United Kingdom.
Previous Work
Edit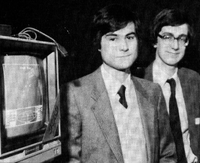 Ian Bell's previous work is Machine control and Finite Element Analysis programing for Malaysian Rubber Producers Research Association. Freelance game design and programming (notably "Elite"). Conversions of Elite to a variety of 6502 platforms. Co-development of PC voxel-based character animation system for Revolution Software. Development water, fire and smoke effects for Sony Playstation for Pterodactyl Software. Independent development of procedural ray stepping techniques.
[2]
Favourites
Edit
References
Edit
↑ 1.0 1.1 Francis Spufford (18 October 2003). "Masters of Their Universe". The Guardian. Retrieved 8 May 2015.
Community content is available under
CC-BY-SA
unless otherwise noted.