Source Article

DO NOT alter or remove any information in this article/section. It consists of primary source content created and owned by Frontier Developments that has been transcribed here verbatim, including any errors, for use as a reference. Other articles may cite the information provided here.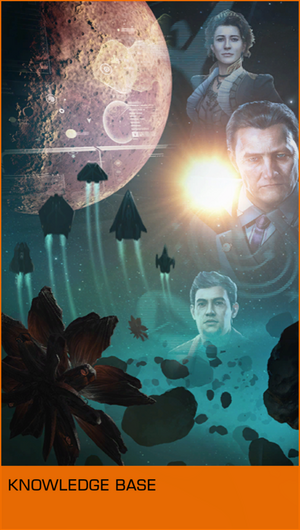 Main article: Codex
The Knowledge Base is a subsection of the Codex that contains lore entries on a wide variety of subjects in the Elite Dangerous universe. Each entry has audio narration.
The Empire
Introduction
"What a piece of work is man! how noble in reason, how infinite in faculty! In form and moving, how express and admirable! In action how like an angel, in apprehension how like a god! The beauty of the world. The paragon of animals!"

— Shakespear, Hamlet
"When our ancestors departed Earth, they asked themselves: which of our achievements represents the best of humanity, that we may bring it with us to illumine the darkness? The Federation, embroiled in a world of contracts and petty bickering, chose their Constitution. They placed their trust not in man himself, but the imperfect work of man."

"But my ancestor - your first Emperor - was wiser. He knew that the best achievement of humanity was humanity itself. There was more wisdom in a single nucleotide of his noble DNA than in all the Federation's written texts."

"That same wisdom still guides us now. We need no dusty documents to assert our right! We are human, born to rule... and the universe awaits the firm hand of our governance."

— Emperor Trasken Duval II, undelivered draft speech written immediately before his sudden and unexplained death
The Empire, while younger than the Federation, is the easily the equal of its historic rival in terms of scale and resources. The key social distinction between the two powers is that slavery in the Empire is legal - a fact that has remained a source of controversy since its inception, both within the Empire and without. Some observers have pointed out, however, that conditions for those at the lowest levels of Federal society are worse than those experienced by Imperial slaves.
The popular image of the Empire is one of opulence, but while pomp and pageantry may be the norm in the core Imperial systems, elsewhere in Imperial space one can find myriad examples of deprivations and squalor. Indeed, the Empire encompasses many striking contrasts: sophisticated technology exists alongside and ancient Roman system of government, and the affluence of the core worlds depends on often unregulated slave labour in the wretched outer colonies.
Ruthless industrial efficiency and low taxation has made the Empire rich and mighty. The hierarchy of Imperial society is rigid, but a Citizen can always rise through the ranks if he or she becomes wealthy enough and makes the right connections. Even a slave could, in theory, become a Senator.
History
Society
Military
Culture and Values
Diplomatic Relations
The Federation
Introduction
History
Society
Military
Culture and Values
Diplomatic Relations
The Alliance
Introduction
History
Society
Military
Culture and Values
Diplomatic Relations
The Thargoids
Human-Thargoid Contact
Society
Communication
Physiology
Vulnerabilities
Starships
Structures
War with the Guardians
Agenda
The Guardians
Introduction
Early History
Technological Era
War with the Thargoids
Final Era
Physiology
Society
Technology
Language
Human-Guardian Contact
Individuals
Aden Tanner
Aisling Duval
Alba Tesreau
Archon Delaine
Arissa Lavigny-Duval
Denton Patreus
Edmund Mahon
Felicia Winters
Hengist Duval
Ishmael Palin
Jasmina Halsey
Li Yong-Rui
Yuri Grom
Zachary Hudson
Zemina Torval
Corporations
Introduction
The Achilles Corporation
Caine-Massey
Core Dynamics
Faulcon DeLacy
Gutamaya
Lakon Spaceways
Mastopolos Mining
Saud Kruger
The Sirius Corporation
The Rockforth Corporation
Universal Cartographics
Wreaken
WorldCraft
Colonia
The Dark Wheel
Raxxla