Upcoming Content

Content presented on this page has not been released yet. Details are subject to change before release, and anything unsupported by a source may be speculation or incorrect.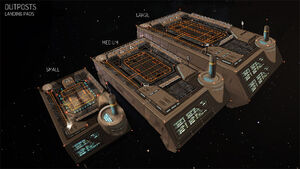 A Landing Pad is a facility or marked area where ships can dock. Upon landing at a Landing Pad, a ship's landing gear is locked in place and the pilot can access the local port's services interface. Accessing the Commodities Market, Mission Board, Passenger Lounge, Universal Cartographics, Contacts, GalNet, Refueling, Restock, and Maintenance is possible immediately after landing, but Livery, Outfitting, and the Shipyard require fully entering the Landing Pad's sealed internal hangar. In Elite Dangerous: Odyssey, Landing Pads at Settlements do not possess internal hangars and offer only a limited selection of services.
Landing Pad Sizes and Ships
There are three sizes of Landing Pad which can accommodate the three general ship sizes: Small, Medium, and Large. All Starports, Asteroid Bases, Surface Ports, and Megaships have all Landing Pad sizes available. Outposts have only Small and Medium pads. Rarely, Small or Medium ships may be permitted to dock at larger pads if no size-appropriate pad is open.
Landing Pad Allotments
The number of available Landing Pads differs depending on the facility.
Community content is available under
CC-BY-SA
unless otherwise noted.