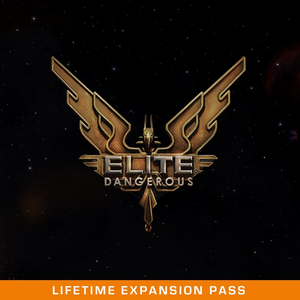 The Lifetime Expansion Pass or LEP is a content pass for Elite Dangerous that includes ownership of any and all expansions produced for the game, plus access to all betas and a selection of cosmetic Livery items.
The LEP was included as a backer reward for purchasers of the £80 "Digital Download Pack" tier of the Elite Dangerous Kickstarter in 2012. During the pre-launch beta period in 2014, it was also included in the Premium Beta bundle for £100.00 ($150.00 USD). It was made available for a third and final time from August 6, 2015 to September 14, 2015, at a cost of £130.00 ($195.00 USD); existing owners of Elite Dangerous were given a £10.00 ($15.00 USD) loyalty discount.
Included Content
For a limited time only, players will be able to purchase a Lifetime Expansion Pass granting access to all current and future Seasons of Elite: Dangerous. The Lifetime Expansion Pass also includes access to all Elite: Dangerous Beta builds to gain an early glimpse at upcoming game content before release plus exclusive content.

— Official Description[1]
2014

Free access to all pre-launch betas for Elite Dangerous
Permits for Sol and Shinrarta Dezhra unlocked at start
2015

Free access to all betas for Elite Dangerous and Horizons updates
Cobra MkIV access
2016

Free access to all betas for Horizons updates
2017

Free access to all betas for Horizons updates
2018[3][4][5]

Free access to all betas for Beyond updates
Snowflake Bobblehead
Snowman Bobblehead
2019

Free access to the beta for the January Update
2020

Free access to the beta for the Fleet Carrier Update
References
Community content is available under
CC-BY-SA
unless otherwise noted.