For information about weaponized Mass Lock, see Mass Lock Munitions.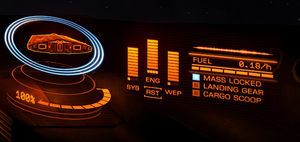 Mass Lock refers to both a ship characteristic and a status effect caused by that characteristic that can inhibit the Frame Shift Drive function of other ships.
Mass Locked
While within close proximity to large objects, such as Stations and planets, ships are Mass Locked and unable to engage or charge their Frame Shift Drives for jumps to either Supercruise ("Low-Waking") or through Hyperspace ("High-Waking"). This status has its own indicator at the bottom-right of the HUD, directly under the fuel gauge. After entering or exiting one of the following spaces, in which Mass Lock is applied to all ships, its activation or deactivation is delayed by about two seconds.
Below a certain altitude above a planet, Mass Lock also applies only to Hyperspace jumps when Supercruise or Glide is active. It is also possible to engage the Frame Shift Drive at the far end of Orbis and Ocellus Starports.
Mass Lock Factor
Being affected by Mass Lock Factor (MLF) drastically increases the charging time of a ship's FSD when jumping to Supercruise. This status is only indicated as a warning in the Infolog at the top-right of the HUD if the player engages their FSD while in proximity to another ship with a higher or equal Mass Lock Factor. Depending on how large the difference between the two MLFs is, the charging duration rises from the standard 5 seconds to between 30s and more than 80s, until the affected ship can escape the other ships MLF influence. Distance between the ships has no notable impact. MLF does not impede jumps through Hyperspace in any way, however, and jumping to another system may be a preferrable escape option in combat.
Mass Lock Factors are not directly related to actual mass, but are set values for each ship model: