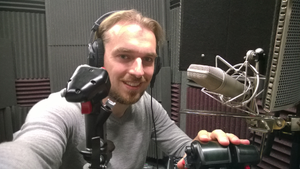 Matthew Florianz is a senior audio designer on Elite Dangerous and at Frontier. Florianz creates the audio for Elite Dangerous with the rest of the audio team. He has made procedural sounds such as for the weapons and interface. Florianz is also a voice inside Alliance stations.[1]
Senior Audio Designer Matthew Florianz held a presentation giving an in-depth look into the making of the audio for Elite Dangerous with in-game examples. Pertaining the science approach with the way Frontier creates the universe, a question they often get is "why didn't you go for no sound in space? The game has sound." Jim Croft answered that question "In the vast and often empty blackness of space, audio fulfills the crucial role of communicating a compelling sense of speed, acceleration and mass to the player."[2]
Projects at Frontier Edit
Mathew Florianz has worked on the following games of Frontier Developments.[3]
Jurassic World: Evolution - Project Audio Lead
Planet Coaster - Project Audio Lead
Elite Dangerous - Senior Audio Designer
Planet Zoo - Project Audio Lead
References Edit