Elite Dangerous Lore: Megaships
Play Sound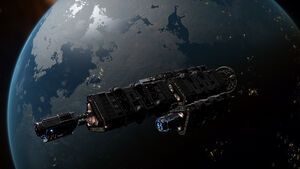 Megaships are a class of extremely large ships primarily used for commercial purposes, such as transporting bulk quantities of goods or large groups of people. A subset of megaships possess Landing Pads and docking facilities for receiving smaller vessels. Unlike Capital Ships, Megaships are generally not designed for frontline military duties, but they can still be used in support and logistical roles.
Megaship types
There are various models of megaships categorized into three main types. Most Megaships are Bulk Cruisers and cannot be docked with. Flight Operations Carriers are megaships with docking facilities. Generation Ships, which predate contemporary megaships, are derelict and also lack docking facilities.[1][2]
A number of megaships are mobile with a rotating flight plan, and they will jump to the next system on their itinerary either every week or every other week, while other megaships are stationary and can reliably be found at the same location.
Dockable megaships
All Flight Operations Carriers, also called Civilian Cruisers, support docking for conventional ships of all sizes, and feature a variety of services with the exception of Shipyards. The most common model of dockable megaship is the Wells-class Carrier, which offers a level of hospitality and functionality between an outpost and a starport. Detention Centres also function as Flight Operations Carriers and are open to the public, but have limited services. Generic Rescue Vessels can be found in systems with recently-damaged stations, but have limited services as well and will depart the system once the damaged station has been stabilised.
Non-dockable megaships
There are two types of non-dockable megaships. Bulk Cruisers are the most common. They often feature one or more text or audio logs that can be downloaded from Ship Log Uplinks using a Data Link Scanner. They possess no docking facilities, but commodities and materials can usually be salvaged near them. Some have unique names in addition to a class and ID code.
The second, much rarer type of non-dockable megaship is the Generation Ship. These feature audio logs that can be downloaded from Ship Log Uplinks. As Generation Ships are ancient derelicts from a time before humanity had developed the hyperdrive, they possess no docking facilities, nor any salvage.
Interactions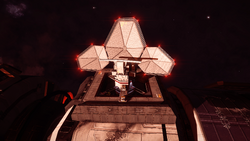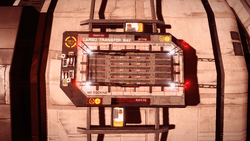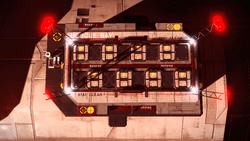 Some megaships, most often Bulk Cruisers, can be interacted with to obtain commodities and materials: [3]
1. Megaships need to be scanned with the Data Link Scanner to highlight any interactive modules and allow them to be targeted.
2. Interactive objects are added to the Contacts section of the left HUD panel.
3. Some of interactions utilise limpets of various types to allow you to activate, deactivate, damage, hack or simply operate an item, while others can be shot or scanned to interact.
All current interactions are considered illegal, tying in with the changes to Crime and Punishment. These interactions provide criminal pilots gameplay options as well as give lawful players new locations to find wanted pilots.
Notes
Videos
Gallery
References
Playable

| | |
| --- | --- |
| Civilian | |
| Federation | |
| Empire | |
| Alliance | |
| Fighters | |
| Capitals | |

NPC-only
Lore & Concepts

Ships by Type

Battlecruiser
Carrier
Combat
Freighter
Megaship
Multipurpose
Passenger Liner
Ship-Launched Fighter
Thargoid Vessel

Ships marked with H can only be purchased and operated by players who pre-ordered Horizons.