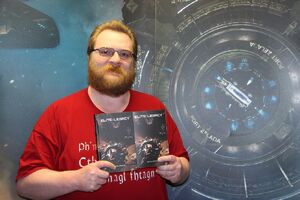 Michael Brookes is the former Executive Producer of Elite Dangerous. He is quite active on the forums providing valuable insight to the game's mechanics and future development plans. He is the author of the Elite: Legacy novel.
Brookes has worked at Frontier Developments on a diverse range of projects for over 14 years.
On June 21, 2017 Brookes announced he would move to a secret project of Frontier.[1]
"I've worked at Frontier now for over 14 years, and in that time I've had the pleasure on working on a diverse range of projects. In fact of all the games we've released in that time there's only three I've not worked on in some capacity! The most significant of which was Elite Dangerous. Since becoming involved in the Kickstarter, and the subsequent development it's been a major factor not only in my professional life, but in my social one as well."
"I'd also like to thank the community for your involvement. Since the game was first announced it's been a pleasure to join you in a shared enthusiasm. I've had the pleasure of meeting many of you in person, and it's always a great feeling to appreciate the passion that you have for the game. I think the first Lavecon will always stand out as a key moment, but there have been many others since the game's release, and it's always great to see some of the things like epic rescues and community events that take place in our galaxy."
The person taking up the role of Elite Dangerous Executive Producer is Gerard Huke, who's been a key member in the team for a long time.[2]
References
Community content is available under
CC-BY-SA
unless otherwise noted.