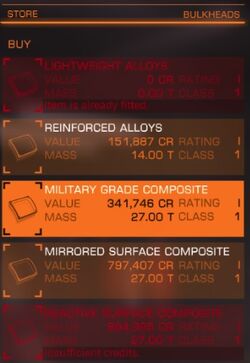 Hardened structure and compounds offering superior protection against all types of attack.

— In-Game Description
Military Grade Composite is a variant of Bulkheads. It offers more hull strength than Lightweight Alloys and Reinforced Alloys. The damage resistances stay unaffected. Therefore it provides the best all-round protection.
Specifications
Edit
The price of Military Grade Composite is 90% of the ships price, except for the Sidewinder, Eagle MkII, Hauler, Imperial Eagle and Cobra MkIII, possibly for balance purposes. Its mass is double the mass of Reinforced Alloys in all cases.
| Ship | Class | Rating | Composite Mass (T) | Value (CR) |
| --- | --- | --- | --- | --- |
| Sidewinder | 1 | A | 4 | 80,320 |
| Eagle MkII | 1 | A | 8 | 90,050 |
| Adder | 1 | A | 5 | 79,030 |
| Hauler | 1 | A | 2 | 185,050 |
| Viper MkIII | 1 | A | 9 | 128,640 |
| Imperial Eagle | 1 | A | 8 | 222,760 |
| Cobra MkIII | 1 | A | 27 | 341,750 |
| Viper MkIV | 1 | A | 9 | 394,140 |
| Diamondback Scout | 1 | A | 26 | 507,900 |
| Cobra MkIV | 1 | A | 27 | 688,250 |
| Type-6 Transporter | 1 | A | 23 | 941,350 |
| Dolphin | 1 | A | 63 | 1,203,600 |
| Diamondback Explorer | 1 | A | 47 | 1,705,290 |
| Imperial Courier | 1 | A | 8 | 2,288,600 |
| Keelback | 1 | A | 23 | 2,813,540 |
| ASP Scout | 1 | A | 42 | 3,565,040 |
| Vulture | 1 | A | 35 | 4,433,050 |
| ASP Explorer | 1 | A | 42 | 5,995,040 |
| Federal Dropship | 1 | A | 87 | 12,882,780 |
| Type-7 Transporter | 1 | A | 63 | 15,725,030 |
| Alliance Chieftain | 1 | A | 78 | 17,444,030 |
| Federal Assault Ship | 1 | A | 87 | 17,832,780 |
| Imperial Clipper | 1 | A | 60 | 20,066,270 |
| Federal Gunship | 1 | A | 87 | 32,232,790 |
| Orca | 1 | A | 87 | 43,685,900 |
| Fer-de-Lance | 1 | A | 38 | 46,410,340 |
| Python | 1 | A | 53 | 51,280,360 |
| Type-9 Heavy | 1 | A | 150 | 68,900,260 |
| Beluga Liner | 1 | A | 165 | 76,079,500 |
| Type-10 Defender | 1 | A | 150 | 112,279,810 |
| Anaconda | 1 | A | 60 | 132,272,510 |
| Federal Corvette | 1 | A | 60 | 169,172,510 |
| Imperial Cutter | 1 | A | 60 | 188,072,500 |