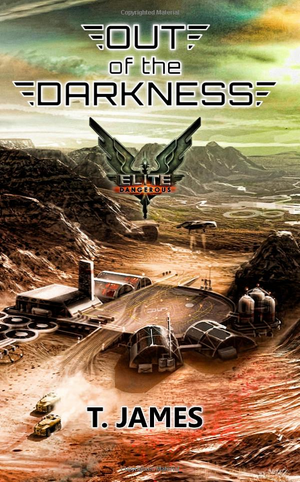 Out of the Darkness is an official licensed novel written by T. James.[1] It's one of the few novels to specifically feature the Thargoids.
Storyline
Edit
How do you win a high-stakes game when you don't even know you're being played?[1]
Competent, driven, broken: Moira Dolan is a talented investigator who buries herself in work to hide from her past. She succeeded, until her brother, Keagan, wrecked her career. Now she works for the Proteus Collective. By night, she's tormented by the same dream. By day, she's assigned dead-end cases by Ferris - a boss who seems intent on making her fail. It appears personal, until Keagan goes missing and Ferris' actions are cast in a whole new light...[1]
Moira thinks her latest assignment will have her chasing ghosts between the stars, but instead she uncovers a deadly conspiracy threatening the precarious balance between the galaxy's major powers, one that could cost billions of lives.[1]
If you're not predator, you're prey.[1]
Availability
Edit
It's available for purchase on Amazon and the website of T. James.
References
Edit
Community content is available under
CC-BY-SA
unless otherwise noted.