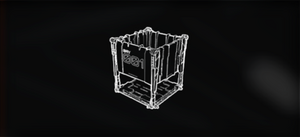 A module designed to house ground-based vehicles.

— In-Game Description
The Planetary Vehicle Hangar is an optional internal module that can store one or multiple Surface Recon Vehicles (SRV) such as the Scarab. When installed, SRVs can be deployed from a ship's cargo bay when it is landed on the surface of a terrestrial planet or docked in a Surface Port. The module does not include any SRVs, which must be purchased separately. Multiple Planetary Vehicle Hangars can be installed at once on the same ship.
Purchasing this module requires owning Elite Dangerous: Horizons.
Specifications
The planetary vehicle hangar is specifically designed to store all manner of ground-roving vehicles. It does so by being outfitted with vehicle bays. Each vehicle bay will be fully equipped to support and maintain a single craft of a specific type.

— Additional In-Game Description
| Class | Rating | Mass (T) | Power Draw (MW) | Vehicle Bay Slots | Value (CR) |
| --- | --- | --- | --- | --- | --- |
| 2 | H | 12.00 | 0.250 | 1 | 18,000 |
| 2 | G | 6.00 | 0.750 | 1 | 21,600 |
| 4 | H | 20.00 | 0.400 | 2 | 72,000 |
| 4 | G | 10.00 | 1.200 | 2 | 86,400 |
| 6 | H | 34.00 | 0.600 | 4 | 576,000 |
| 6 | G | 17.00 | 1.800 | 4 | 691,200 |