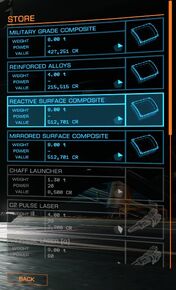 Specifically formulated structure offering superior resistance to kinetic damage at the cost of vulnerability to thermal attack.

— In-Game Description
Reactive Surface Composite is a specialized reinforcement material for the ship's hull. It is designed to give the best protection against projectile weapons, such as Multi-cannons and Railguns at the cost of vulnerability to Thermal damage.
Specifications
Edit
As with all armour the price and weight of Reactive Surface Composite scales with the size of the ship.
| Ship | Class | Rating | Mass (T) | Value (CR) |
| --- | --- | --- | --- | --- |
| Sidewinder MkI | 1 | I | 4.00 | 139,424 |
| Eagle MkII | 1 | I | 8.00 | 150,393 |
| Hauler | 1 | I | 2.00 | 282,421 |
| Adder | 1 | I | 5.00 | 206,963 |
| Viper MkIII | 1 | I | 9.00 | 336,888 |
| Viper MkIV | 1 | I | 9.00 | 1,032,203 |
| Cobra MkIII | 1 | I | 27.00 | 1,654,431 |
| Diamondback Scout | 1 | I | 26.00 | 1,130,605 |
| Diamondback Explorer | 1 | I | 47.00 | 4,714,000 |
| Type-6 Transporter | 1 | I | 23.00 | 2,465,292 |
| Vulture | 1 | I | 35.00 | 51,678,674 |
| Asp Explorer | 1 | I | 42.00 | 15,700,338 |
| Type-7 Transporter | 1 | I | 63.00 | 41,182,099 |
| Imperial Clipper | 1 | I | 60.00 | 52,551,342 |
| Federal Dropship | 1 | I | 87.00 | 89,128,081 |
| Orca | 1 | I | 87.00 | 114,408,513 |
| Python | 1 | I | 53.00 | 134,297,567 |
| Krait Mk II | 1 | I | 67.00 | 134,297,570 |
| Type-9 Heavy | 1 | I | 150.00 | 180,442,119 |
| Anaconda | 1 | I | 60.00 | 346,406,995 |
| Mamba | 1 | I | 38.00 | 131,678,631 |
| Fer-de-Lance | 1 | I | 38.00 | 121,543,513 |
Purchase Locations
Edit
| Class | Rating | System | Station |
| --- | --- | --- | --- |
| 1 | I | Shinrarta Dezhra | Jameson Memorial |
| 1 | I | Brestla | i Sola Prospect |
| 1 | I | Beta Caeli | Lloyd Port |
| 1 | I | LTT 8517 | Seega Dock |