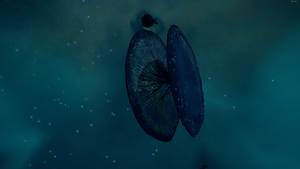 These organisms are so called because of their resemblance to reels or spools, are protected by husks that shield them from radiation.

— In-Game Description
Reel Molluscs are non-sapient, spacefaring creatures that inhabit Notable Stellar Phenomena and loosely resemble the molluscs native to Earth.
Research Limpets can be used to extract Mollusc Membrane, Mollusc Mycelium, and Mollusc Spores from Reel Molluscs.
Types
There are three known types of Reel Mollusc:
Lindigoticum Reel Mollusc
Luteolum Reel Mollusc
Viride Reel Mollusc
Locations
| System | Type | Reported By |
| --- | --- | --- |
| Greae Phio DT-G d11-1414 | | CMDR Hunter241 |
Videos
Gallery
References
Sapient Species

| | |
| --- | --- |
| Arthropod | |
| Humanoid | |
| Robotic | |

Non-Sapient Species

| | |
| --- | --- |
| Arthropod | |
| Mammalian | |
| Molluscoid | Reel Mollusc |
| Plantoid | |
| Undefined | |

Non-Sentient Species

| | |
| --- | --- |
| Annelid | |
| Arthropod | |
| Cnidarian | |
| Fungoid | |
| Microbial | |
| Plantoid | |