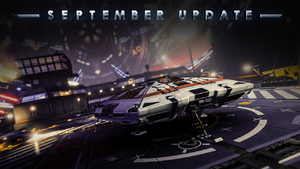 The September Update is a standalone content update for Elite Dangerous that was released on September 18, 2019. After the April Update, it was the second of a series of updates throughout 2019 and 2020 designed to provide quality of life improvements and a more welcoming beginning experience for new players. The September Update was originally planned to be followed by the December Update,[1][2][3][4] but the latter was delayed in order to first release the January Update, which focused on fixing longstanding issues.[5]
Features
Notes
Videos
References
2019 - 2020 Standalone Updates

3.5 - September Update

4.0 - Odyssey

Patch Notes

Elite Dangerous
Horizons
Beyond
2019 - 2021
Odyssey

For additional information about the development of Elite Dangerous and planned content, see Development Plans.