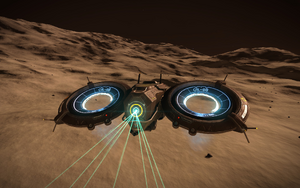 Skimmers are small, remotely-piloted surface vehicles used to guard sites on planetary surfaces such as Settlements and Shipwrecks. They hover over the surface of the planet, but are not considered aircraft, as they cannot attain high altitudes. Since they are piloted remotely, independent pilots can neutralise them by destroying the base sending their command signals, or if they are sufficiently far from the base, any relay towers enabling communication with the base.
When destroying Skimmers, they can occasionally drop a Very Common or Common Manufactured Material, or a canister of Skimmer Components.
Skimmer Models
Edit
Community content is available under
CC-BY-SA
unless otherwise noted.