Starports are large stations. Big enough to be considered cities floating in space. They act as commercial hubs for each system; trading in both commodities and information. Several starports have capital ship docks.
Starports rotate slowly to create artificial gravity for the millions of people who live and work aboard. Gravity differs between each of a Coriolis tower's floors. For many residents real daylight is a rare privilege. The landing hub is pressurized with an atmosphere. The docking hub is a safe zone for players, because no firing of weapons is allowed. It's protected by defence turrets which uphold the law.[1]
Starport Types
There are currently three different types of Starports: Coriolis, Orbis, Ocellus. To take advantage of the low gravity which is useful in loading and unloading cargo, all docking takes place near the center of each station. The outer areas of the starport are tuned to produce standard Earth gravity and is where living quarters are located.
Coriolis
Main article: Coriolis
The Coriolis starport is a time-tested station design pioneered by the Galactic Cooperative and regarded as its most prolific and enduring legacy. Renowned for its efficient, modular layout, a single Coriolis can be assembled and made operational within a matter of weeks. These stations are usually the first to be built in newly-colonized systems, and are converted into trading posts once the initial phase of colonization is completed.[2]
Orbis
Main article: Orbis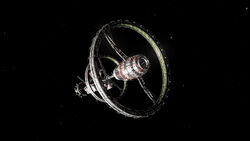 The Orbis starport is the oldest station design still utilized in the 34th century, having originated during the early years of the Federation and persisted over the centuries with minimal changes.[2] It is a common sight in both well-established and newly-colonized systems.
Ocellus
Main article: Ocellus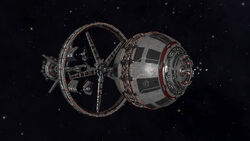 The Ocellus starport is a recent station design introduced in 3260 by Imperial ship manufacturer Gutamaya, and now present throughout human space. The forefront of exploration technology, the Ocellus is designed to be both mobile and self-sufficient. It can be fitted with engines and a hyperdrive to be easily moved where needed, and various corporations and institutions have been known to deploy them to observe rare stellar spectacles for a few months at a time. The station's spherical shape efficiently contains air pressure, provides radiation shielding, and stabilizes the entire structure during transit by reducing torsional stress. The equatorial trench on the Ocellus's exterior features manufacturing and refinery facilities, while the surfaces nearest to the docking port hold commercial and administrative offices.[2][3]
Notes
Starports controlled by Federation-aligned minor factions display a four-digit identification number with the prefix "FSP" for "Federal Star Port" (e.g. "FSP#6160") on the exterior around the Access Corridor. This number is generated based on the coordinates and name of the station's star system, and is displayed more prominently than the station's own name due to the Federation's highly bureaucratic nature.[4] Empire, Alliance, and independent-aligned stations do not use this system, although Imperial stations do display the phrase "Hail the Emperor - Bask in Her Glory" beneath the station's name.
References