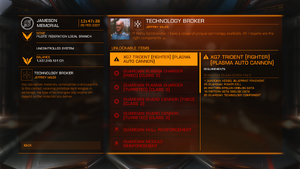 A Technology Broker is a dealer in new and rare technologies and items. These contacts appear in various stations across known human space and can generally be found in highly populated systems with a high security level.[1] There are two types of Tech Brokers distinguished by the type of technology they offer: Human and Guardian.
Visit Tech Brokers to see what items they currently have available and complete set requests to unlock these items by handing in the required commodities and materials. You need the materials to unlock it only once. After that it will be available for purchase in outfitting at any station with a tech broker.[1]
The addition of Technology Brokers allows pilots to acquire new items based on their personal narrative giving even more ways to do things your way.[1] Each Tech Broker has a different selection of items per station.
Note: You cannot donate portions of the required resources and so you must have all items ready to hand in simultaneously. Therefore it is suggested that you make sure you have all other materials first before bringing commodities to a Technology Broker, as hauling commodities (Meta-Alloys) long distances or when hunting for materials can be frustrating due to a decreased jump range and frequent interdictions.
Available Items
Edit
Items
Required Resources
Corrosion Resistant Cargo Rack (4E)
16 Meta-Alloys
26 Iron
18 Chemical Manipulators
22 Radiation Baffle
12 Neofabric Insulation
Enzyme Missile Rack (Fixed, Class 2)
15 Tungsten
16 Thargoid Energy Cell
18 Thargoid Organic Circuitry
16 Molybdenum
6 Radiation Baffle
Meta Alloy Hull Reinforcement
16 Meta-Alloys
15 Focus Crystals
22 Aberrant Shield Pattern Analysis
20 Configurable Components
12 Reinforced Mounting Plate
Remote Release Flechette Launcher (Fixed, Class 2)
22 Rhenium
30 Iron
24 Molybdenum
26 Germanium
8 CMM Composite
Remote Release Flechette Launcher (Turreted, Class 2)
20 Rhenium
28 Iron
28 Molybdenum
24 Germanium
10 Articulation Motors
Shock Cannon (Fixed, Class 1)
8 Vanadium
10 Tungsten
8 Rhenium
12 Technetium
4 Power Converter
Shock Cannon (Fixed, Class 2)
24 Vanadium
22 Tungsten
20 Rhenium
28 Technetium
6 Ion Distributor
Shock Cannon (Fixed, Class 3)
28 Vanadium
26 Tungsten
24 Rhenium
26 Technetium
8 Power Converter
Shock Cannon (Gimballed, Class 1)
10 Vanadium
11 Tungsten
8 Rhenium
10 Technetium
4 Power Transfer Bus
Shock Cannon (Gimballed, Class 2)
22 Tungsten
20 Rhenium
28 Technetium
24 Vanadium
10 Power Converter
Shock Cannon (Gimballed, Class 3)
28 Vanadium
24 Tungsten
24 Rhenium
22 Technetium
12 Power Transfer Bus
Shock Cannon (Turreted, Class 1)
8 Vanadium
12 Tungsten
10 Rhenium
10 Technetium
4 Ion Distributor
Shock Cannon (Turreted, Class 2)
24 Vanadium
22 Tungsten
20 Rhenium
28 Technetium
8 Power Transfer Bus
Shock Cannon (Turreted, Class 3)
26 Vanadium
28 Tungsten
22 Rhenium
24 Technetium
10 Ion Distributor
Guardian
Edit
Items
Required Resources
Guardian Frame Shift Drive Booster
1 Guardian Module Blueprint Fragment
21 Guardian Power Cell
21 Guardian Technology Component
24 Focus Crystals
8 HN Shock Mount
Guardian Gauss Cannon (Fixed, Class 1)
1 Guardian Weapon Blueprint Fragment
12 Guardian Power Conduit
12 Guardian Sentinel Wreckage Components
15 Guardian Sentinel Weapon Parts
Guardian Gauss Cannon (Fixed, Class 2)
1 Guardian Weapon Blueprint Fragment
18 Guardian Power Cell
20 Guardian Technology Component
15 Manganese
6 Magnetic Emitter Coil
Guardian Hull Reinforcement Package
1 Guardian Module Blueprint Fragment
21 Guardian Sentinel Wreckage Components
16 Pattern Beta Obelisk Data
16 Pattern Gamma Obelisk Data
12 Reinforced Mounting Plate
Guardian Hybrid Power Distributor
1 Guardian Module Blueprint Fragment
20 Pattern Alpha Obelisk Data
24 Guardian Power Cell
18 Phase Alloys
6 Heatsink Interlink
Guardian Hybrid Power Plant
1 Guardian Module Blueprint Fragment
18 Guardian Power Conduit
21 Pattern Epsilon Obelisk Data
15 Heat Resistant Ceramics
10 Energy Grid Assembly
Guardian Module Reinforcement Package
1 Guardian Module Blueprint Fragment
18 Guardian Sentinel Wreckage Components
15 Pattern Epsilon Obelisk Data
20 Guardian Power Conduit
9 Reinforced Mounting Plate
Guardian Plasma Charger (Fixed, Class 1)
1 Guardian Weapon Blueprint Fragment
12 Guardian Power Cell
12 Guardian Sentinel Weapon Parts
15 Guardian Technology Component
Guardian Plasma Charger (Fixed, Class 2)
1 Guardian Weapon Blueprint Fragment
19 Guardian Power Conduit
16 Guardian Sentinel Weapon Parts
14 Chromium
8 Micro-Weave Cooling Hoses
Guardian Plasma Charger (Fixed, Class 3)
1 Guardian Weapon Blueprint Fragment
28 Guardian Power Conduit
20 Guardian Sentinel Weapon Parts
28 Chromium
10 Micro-Weave Cooling Hoses
Guardian Plasma Charger (Turreted, Class 1)
1 Guardian Weapon Blueprint Fragment
12 Guardian Power Cell
12 Guardian Technology Component
15 Guardian Sentinel Weapon Parts
Guardian Plasma Charger (Turreted, Class 2)
2 Guardian Weapon Blueprint Fragment
21 Guardian Power Conduit
20 Guardian Sentinel Weapon Parts
16 Chromium
8 Articulation Motors
Guardian Plasma Charger (Turreted, Class 3)
2 Guardian Weapon Blueprint Fragment
26 Guardian Power Conduit
24 Guardian Sentinel Weapon Parts
26 Chromium
10 Articulation Motors
Guardian Shard Cannon (Fixed, Class 1)
1 Guardian Weapon Blueprint Fragment
12 Guardian Power Conduit
12 Guardian Technology Component
15 Guardian Sentinel Weapon Parts
Guardian Shard Cannon (Fixed, Class 2)
1 Guardian Weapon Blueprint Fragment
20 Guardian Sentinel Wreckage Components
18 Guardian Technology Component
14 Carbon
12 Power Transfer Bus
Guardian Shard Cannon (Fixed, Class 3)
1 Guardian Weapon Blueprint Fragment
20 Guardian Sentinel Wreckage Components
28 Guardian Technology Component
20 Carbon
18 Micro Controllers
Guardian Shard Cannon (Turreted, Class 1)
1 Guardian Weapon Blueprint Fragment
12 Guardian Power Conduit
15 Guardian Technology Component
12 Guardian Sentinel Weapon Parts
Guardian Shard Cannon (Turreted, Class 2)
2 Guardian Weapon Blueprint Fragment
16 Guardian Sentinel Wreckage Components
20 Guardian Technology Component
15 Carbon
12 Micro Controllers
Guardian Shard Cannon (Turreted, Class 3)
2 Guardian Weapon Blueprint Fragment
20 Guardian Sentinel Wreckage Components
28 Guardian Technology Component
28 Carbon
12 Micro Controllers
Guardian Shield Reinforcement Package
1 Guardian Module Blueprint Fragment
17 Guardian Power Cell
20 Guardian Technology Component
24 Pattern Delta Obelisk Data
8 Hardware Diagnostic Sensor
XG7 Trident
1 Guardian Starship Blueprint Fragment
25 Guardian Power Cell
26 Pattern Epsilon Obelisk Data
18 Pattern Beta Obelisk Data
25 Guardian Technology Component
XG8 Javelin
1 Guardian Starship Blueprint Fragment
25 Guardian Power Cell
26 Pattern Epsilon Obelisk Data
18 Guardian Sentinel Wreckage Components
25 Guardian Technology Component
XG9 Lance
1 Guardian Starship Blueprint Fragment
25 Guardian Power Cell
26 Pattern Epsilon Obelisk Data
18 Guardian Sentinel Weapon Parts
25 Guardian Technology Component
References
Edit
External links
Edit