Speculated Content

Content presented on this page originates from datamined game files, authenticated leaks from official sources, or past developer statements. It has not been officially confirmed to be in development, and may not be implemented.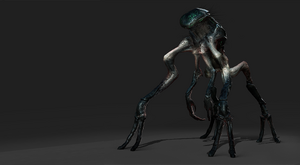 The Thargoid Soldier is an individual of the Thargoid species. Variants include the Thargoid Worker and Thargoid Regent. Mention of Thargoid Soldiers was found in datamined files in Elite Dangerous, and they are speculated to be Thargoid ground units that will be encountered in On Foot gameplay in Elite Dangerous: Odyssey.[1][2]
References
Ships
Technology

| | |
| --- | --- |
| Commodities | |
| Materials | |
| Other | |

Locations
Related
Thargoid Soldier
Community content is available under
CC-BY-SA
unless otherwise noted.