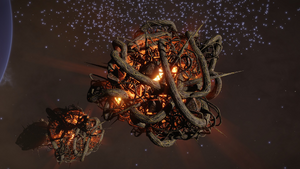 These organic structures are remarkably long lived, with some specimens enduring for thousands of years.

— In-Game Description
Void Hearts, also called Barbed Knots, are plant-like organic structures found in Notable Stellar Phenomena. They produce Octahedral Pods, and are known to produce periodic bursts of heat and light.
Types
There is one known type of Void Heart:
Locations
Void Hearts have been found at the following locations.
| System | Type | Reported By |
| --- | --- | --- |
| Shrogaae KK-A d983 | Chryseum | CMDR Chaon Sarat |
| Shrogaae KK-A d1791 | Chryseum | |
| Shrogaae KK-A d2672 | Chryseum | |
Videos
Gallery
References
Sapient Species

| | |
| --- | --- |
| Arthropod | |
| Humanoid | |
| Robotic | |

Non-Sapient Species

| | |
| --- | --- |
| Arthropod | |
| Mammalian | |
| Molluscoid | |
| Plantoid | |
| Undefined | |

Non-Sentient Species

| | |
| --- | --- |
| Annelid | |
| Arthropod | |
| Cnidarian | |
| Fungoid | |
| Microbial | |
| Plantoid | |